Specifics of Infodemic in Russia: From WhatsApp to the Investigative Committee
Keywords:
pandemic, coronavirus, COVID-19, rumors, infodemic, fake news, digital anthropology
Abstract
Since January 2020, the Contemporary Folklore Monitoring research team has been studying the specifics of the infodemic in Russia (infodemic refers to widely circulated rumors, pseudoscientific remedies, conspiracy theories and denialism related to the COVID-19 epidemic). The study aims to describe what the infodemic involves and how it spreads. The authors draw two databases: (1) texts from the Russian social media collected using the Medialogia tool (167 narratives), and (2) cases of criminal and administrative trials against citizens for disseminating 'inaccurate information' (rumors) about the coronavirus and ways to fight that (203 cases).
Based on the quantitative and qualitative data analysis, the authors describe how the infodemic is 'arranged', what topics are popular, and why they are popular; they analyze what triggers the infodemic 'waves'; and what types of narrative circulated through informal channels of communication may pose danger to public health or can be considered dangerous by the court.
Acknowledgements. The study is part of the RANEPA state assignment research program.
Our research group expresses its heartfelt gratitude to Maria Shklyaruk and Mikhail Benyukhis, without whose help the work on the paper would not have been possible, to our colleagues  Dr Ian Brodie, Dr Aglaya Starostina, Dr Anna Kirzyuk, Dr Iosif Zislin and Sergey Belyanin, for their help in the work on the article, the human-right watch organizations OVD-Info and Agora "for providing results of their monitoring, Ilya Ferapontov, editor of N + 1, for providing a platform for operational publications, as well as all our correspondents who, sparing no effort and time, found and sent us more and more examples of rumors and fakes.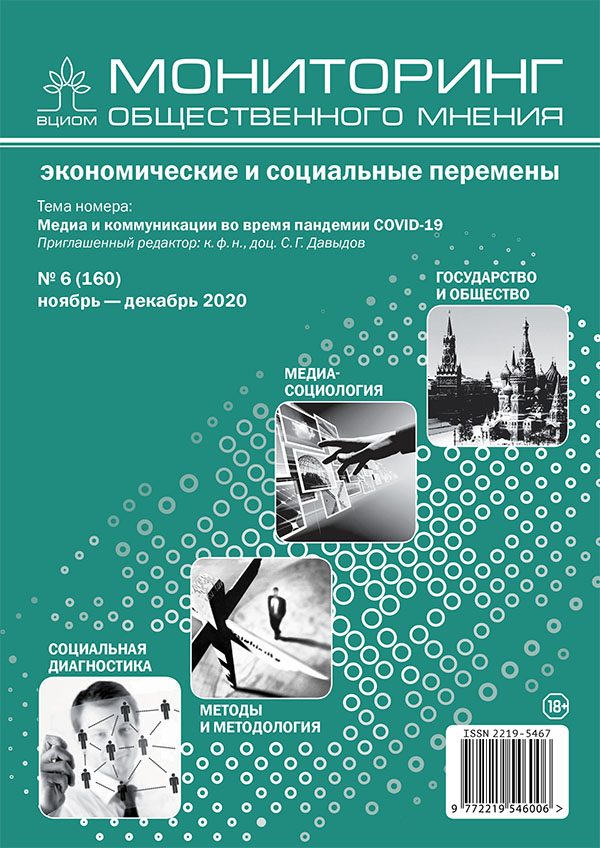 Copyright (c) 2020 Monitoring of Public Opinion: Economic and Social Changes Journal (Public Opinion Monitoring) ISSN 2219-5467
This work is licensed under a Creative Commons Attribution-NonCommercial-ShareAlike 4.0 International License.