How Gender and Intergenerational Relations Affect Demographic Behavior: The Case of Ingushetia
Keywords:
gender relations, intergenerational relations, fertility, nuptiality, North Caucasus, quantitative surveys
Abstract
The article deals with the impact of gender and intergenerational relations on nuptial and marriage behavior in the Republic of Ingushetia, one of the Northern Caucasus region characterized by intergenerational and gender asymmetries in family life patterns. The authors analyze the results of a quantitative survey carried out among reproductive women in Ingushetia in 2019. The analysis shows that a number of parameters indicative of a woman's self-dependence (having a job and educational background) and the degree of female dependence on elder relatives in making important life decisions discover a statistical relationship with the likelihood of entering into a marriage and having a first child. However the "direction" of this relationship is not always predicted by the available theories. In particular, the survey shows that a larger degree of "traditionalism" in gender and intergenerational relations implies a later entry into the first marriage rather than an earlier one. The authors discuss possible reasons behind such unusual results detailing the existing ideas about possible impact of gender and intergenerational relations on demographic processes.
Acknowledgments. The article is part of a research work under a state assignment to RANEPA. The authors express their gratitude to Dmitri Rogozin and Nadezhda Galieva for help with the telephone survey.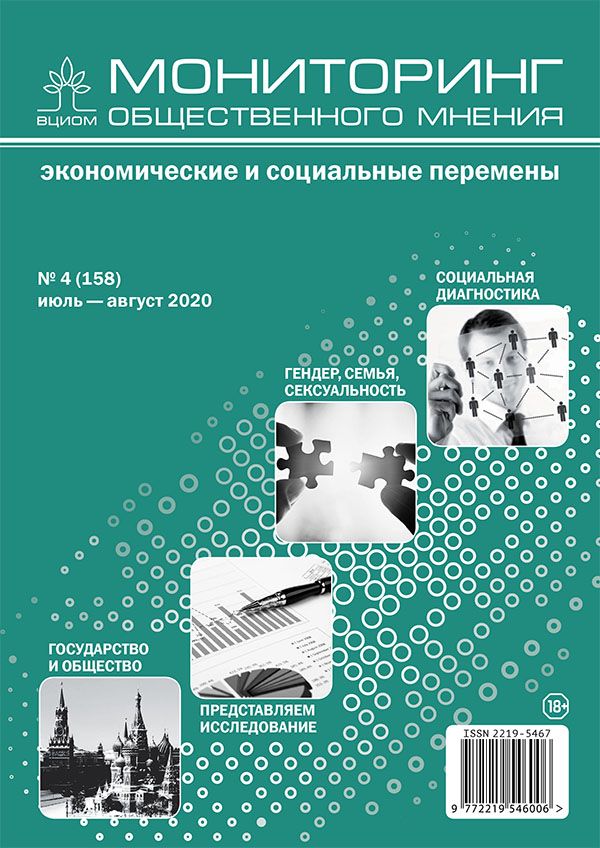 Section
GENDER, FAMILY, SEXUALITY: FOLLOWING IGOR S. KON (16+)
Copyright (c) 2020 Monitoring of Public Opinion: Economic and Social Changes Journal (Public Opinion Monitoring) ISSN 2219-5467
This work is licensed under a Creative Commons Attribution-NonCommercial-ShareAlike 4.0 International License.