Dynamics of Pension Strategies and Pension Behavior of Russians in 2005—2020
Keywords:
pension strategies of Russians, pension behavior, reform of Russian pension system, future pension sufficiency, additional sources of retirement incomes
Abstract
The study aims to identify changes in the assessments of the future pension payments among Russians who have not yet retired in 2005—2020, as well as their perceptions of the ways to ensure an acceptable standard of living after retirement. The authors regard dynamics of the indicators in Russian population as a whole and across different socio-demographic groups. The study uses the data on the retirement strategies of Russians collected during the annual Monitoring of the Financial Behavior of the Russian Population (2009—2020) of the HSE University, and the data of the Monitoring of Financial Activity of the Population for 2005 (ZIRCON Research Group) and 2007 (NAFI Research Centre). The authors conclude that despite the demographic, economic, and institutional changes, individual pension strategies have not changed for the better. Fewer Russians believe that pension payments will be of sufficient amount for them to live, and the number of those who expect to receive additional retirement income declines. Financial strategies for retirement savings, although increased in coverage, have not yet become common.
Acknowledgements. The study uses the results of the project «The Ratio of Formal and Informal Sources of Economic Power in the Modern Russian Economy» carried out within the framework of the HSE Academic Fund Programme in 2021.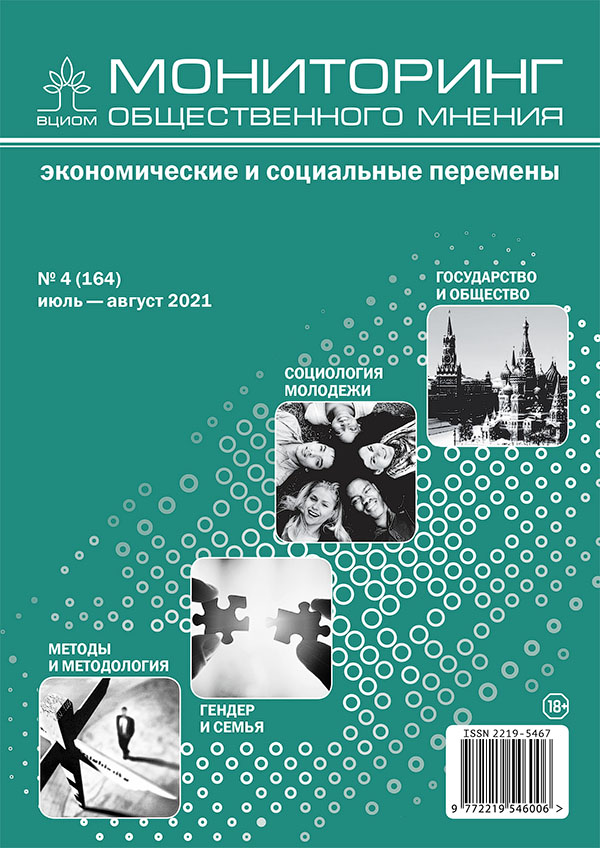 Section
STATE AND SOCIETY
Copyright (c) 2021 Monitoring of Public Opinion: Economic and Social Changes Journal (Public Opinion Monitoring) ISSN 2219-5467
This work is licensed under a Creative Commons Attribution-NonCommercial-ShareAlike 4.0 International License.