Justification of Decision-Making by Future Russian Lawyers in the Conditions of Value and Normative Uncertainty: Aequĭtas Sequĭtur Legem?
Keywords:
law, justice, normative orientations, values, value and normative uncertainty, rulemaking
Abstract
A professional career depends on a number of objective and subjective factors. The latter, in particular, include individual values and normative orientations, which characterize the worldview, the level of legal culture, and moral consciousness. They not only indicate the personality traits of professionals, but also have predictive potential for identifying attitudes towards justifying decisions in conditions of value and normative uncertainty.
The study of the rationale for decision-making by those who have the opportunity to operate with the norms, regulating individual social practices and social relations in general, is particularly important. Such opportunities are possessed by representatives of legal professions specializing in the field of rulemaking and enforcement, that is, in many respects determining the value-normative structure of the social order. The study of the ways professionals or future professionals justify decision-making in conditions of value-normative uncertainty allows, to some extent, to concretize the content of ideas about social justice and existing social norms, as well as individual evaluation of the latter from the point of view of the relationship between law and justice.
For this purpose, the authors carried out a sociological study on the basis of branches of the All-Russian State University of Justice (RLA of the Ministry of Justice of Russia) located in eight Russian cities — Izhevsk, Kazan, Kaluga, Petrozavodsk, Saransk, St. Petersburg, Tula, and Khabarovsk. The sample consisted of 415 respondents and covered 10% of the total number of full-time students in each branch; the selection process involved quotas by gender and age. Where possible, the results were compared with the results of a similar study conducted in 2016 (N = 374).
The study proved the perception of the correlation between law and justice by students of legal specialties to be an important issue. The authors distinguished four models of attitudes: utilitarian, liberal, socialist, and fatalist. The choice of the model largely determines the attitude towards social practices, which are problematized in the public consciousness and are perceived as either non-normative or ambiguous.
Acknowledgements. The research was supported by RFBR, project № 19-011-00082.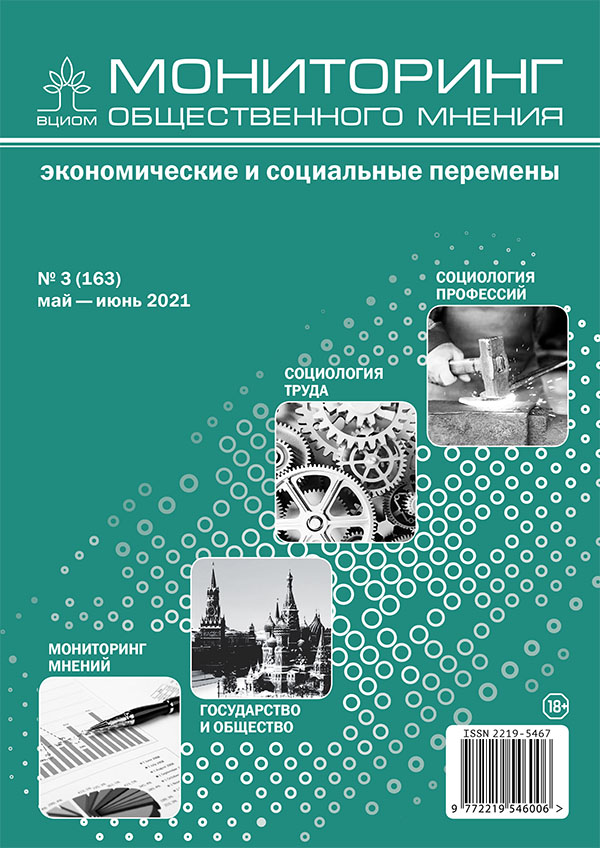 Section
STATE AND SOCIETY
Copyright (c) 2021 Monitoring of Public Opinion: Economic and Social Changes Journal (Public Opinion Monitoring) ISSN 2219-5467
This work is licensed under a Creative Commons Attribution-NonCommercial-ShareAlike 4.0 International License.