From Theoretical Design to Practical Viewpoints: Implementation of Ethical Principles in Youth Life Strategies
Keywords:
strategy, deontology, consequentialism, contractarianism, existentialism
Abstract
The article is focused on how moral views highlighted by various ethical and philosophical studies are implemented in everyday human behavior. Theoretically, the authors single out four life strategies oriented towards various key values (deontological, consequentialist, contractarian and existentialist strategies).
The theory was verified through an online survey among students from four higher education institutions in the Republic of Mordovia representing the entire Mordovian student body. Initially a total of 1,642 persons took part in the survey; 767 questionnaires were recognized as effective. Tools involved sets with binary variables which ascribed respondents to the corresponding theoretical structure according to their perceptions of values such as patriotism, family, volunteering, higher education, etc.
Four dominant behavior patterns were drawn from factor analysis: deontological, self-centered, contractarian and consequentialist patterns. On the whole, they correlate to the above-mentioned ethical and philosophical theories. An exclusion is self-centered strategy representing the result of transformation and specific choice of separate binary variables related to existential strategy. People sharing this strategy do not strive for personal growth and self-development and give priority to their personal opinion which is not subject to changes.
Despite the obtained behavior models that authors propose to further consider as "ideal types", they state that a majority of respondents either do not adhere to any model on a constant basis or stick to a certain model contextually. This is a sign of atomization in a modern post-traditional society where clip thinking and fragmented assimilation of normative codes are still strong. Deontological strategy is the most common, and this is implicitly confirmed by cross-check data pointing to an increase in youth social responsibility, higher levels of volunteering and collective activities, ecoactivism, etc.  
Acknowledgments. The study is supported by RFBR (project no. 18-011-00710).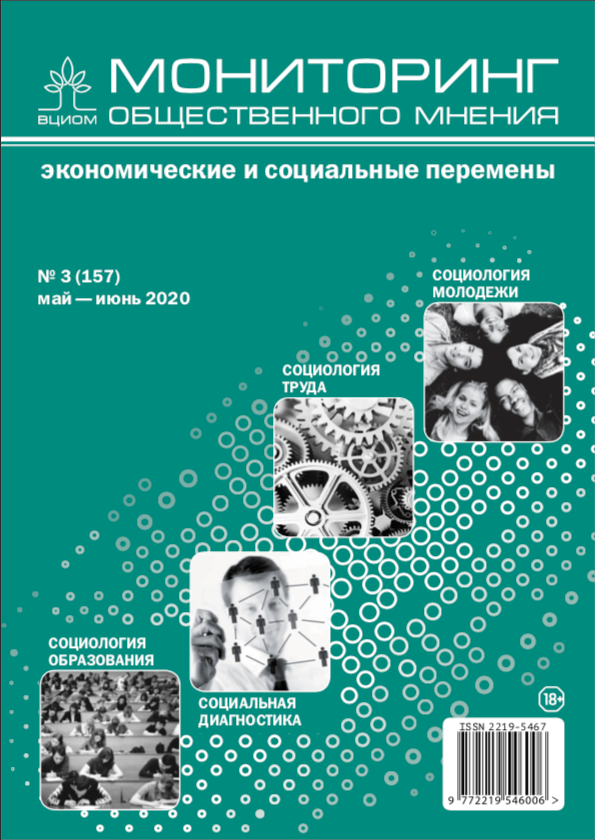 Section
SOCIOLOGY OF YOUTH
Copyright (c) 2020 Monitoring of Public Opinion: Economic and Social Changes Journal (Public Opinion Monitoring) ISSN 2219-5467
This work is licensed under a Creative Commons Attribution-NonCommercial-ShareAlike 4.0 International License.