Desire (Not) To Have Children in the Population Surveys
Keywords:
reproductive intentions, childlessness, desire to have children , interviewer, respondent, behavioral coding of communication, quantitative survey
Abstract
The article explores changes in the fertility behavior through the lens of childlessness preferences in modern Russia. The authors consider answers to the questions about the desire to have children in relation to the individual characteristics of the respondents and analyze the features of communication in the course of a quantitative population survey, investigating the processes of interpretation of questions and the formation of answers. The empirical basis of the work is the data and audio recordings of the three waves of a major nationwide representative survey «Person, Family, Society» (2015, 2017 and 2020).
The authors point to a significant increase in the number of respondents stating their desire not to have children. In order to improve the reliability of the results, the study uses multiple indicators of childlessness preferences, which confirm the revealed trend. Childlessness preferences are formed under the influence of two different processes, deprivation and modernization. In addition, there is a change in the social portrait of those who do not want to have children: while in 2017 preferred childlessness was determined mainly by the absence of a spouse or a partner in the household, in 2020 it is associated with a broad set of characteristics.
To interpret the growth of childlessness preferences, the authors perform an analysis of communication between respondents and interviewers. The question about the desire to have children is easy and understandable, but extremely difficult in terms of information retrieval and formulation of judgment by the respondent, and in terms of recording the detailed answer by the interviewer. Often, the respondent declares an ambivalent position answering with a construct «on the one hand, and on the other hand», and the final answer is formed under the influence of the current communicative situation. Finally, the authors believe that the overall growth of childless and dynamics of fertility intentions was intensified by the COVID-19 pandemic: against the background of spring quarantine, respondents were unprepared for the very discussion about the birth of a child.
Acknowledgements. The article was written on the basis of the RANEPA state assignment research programme in 2021.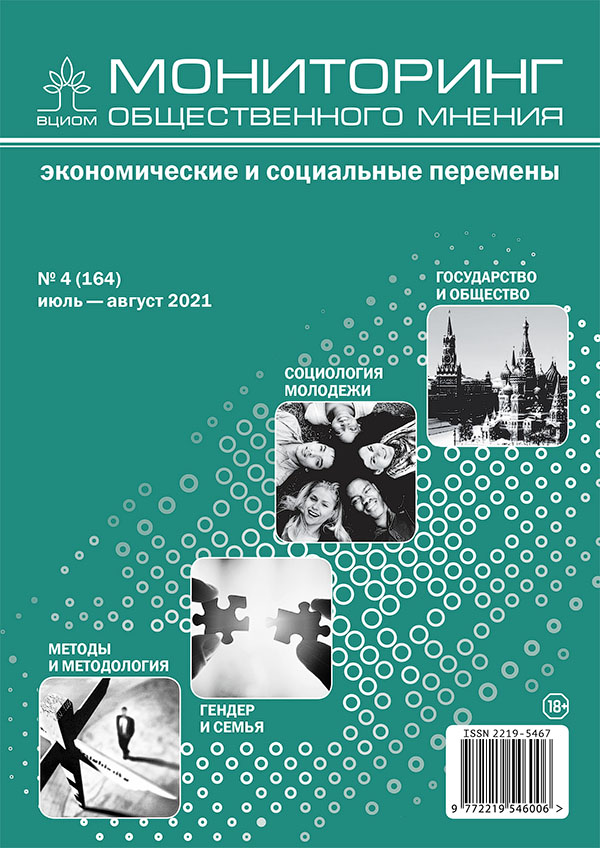 Section
GENDER AND FAMILY
Copyright (c) 2021 Monitoring of Public Opinion: Economic and Social Changes Journal (Public Opinion Monitoring) ISSN 2219-5467
This work is licensed under a Creative Commons Attribution-NonCommercial-ShareAlike 4.0 International License.