Cyclic (De)Problematization: Coverage of the Coronavirus Pandemic in Russia on a Federal TV Channel
Keywords:
coronavirus, COVID-19, deproblematization, television, constructing problems
Abstract
The article investigates the coverage of the coronavirus pandemic on Channel One for the period from February 1, 2020 to July 30, 2020. Based on the analysis of more than 3,000 news stories, the authors divide the discussion into three major stages. Each stage was defined in terms of specific metaphors, meanings and methods of argumentation aimed at implementing a certain strategy (to soften, to problematize or to deproblematize the situation). The dynamics in the COVID-19 coverage is explained through the concept of cyclic (de)problematization which helps to interpret and analyze significant changes in the tone of the coverage of a particular topic by the same media outlet over a short period of time. By comparing the discussion dynamics and public opinion surveys conducted by the Public Opinion Foundation (FOM), the authors conclude that the way the COVID-19 topic was covered on Channel One may have substantially affected the public perceptions of the situation. However, cyclic deproblematization can increase public distrust in official information about the COVID-19; this, in turn, can make it difficult to reproblematize the situation if the epidemiological situation further deteriorates.
Acknowledgments. The study has been funded within the framework of the Basic Research Program at the National Research University Higher School of Economics (HSE) in 2020.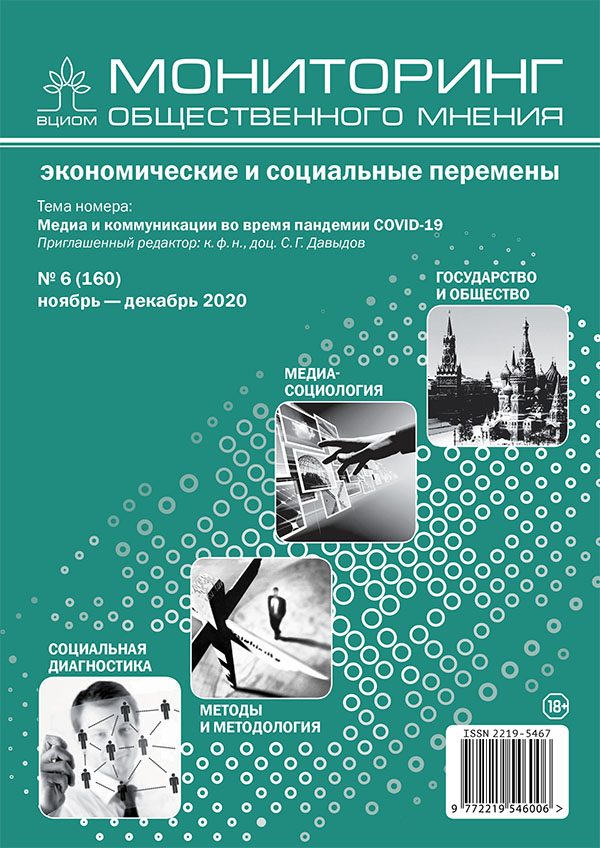 Copyright (c) 2020 Monitoring of Public Opinion: Economic and Social Changes Journal (Public Opinion Monitoring) ISSN 2219-5467
This work is licensed under a Creative Commons Attribution-NonCommercial-ShareAlike 4.0 International License.