In the Post-Materialist Trend: Motivation of Protesters in the Square at the Drama Theater in Yekaterinburg
Keywords:
protest, Yekaterinburg, motivation of the protest action, civil society, post-materialism, R. Inglehart
Abstract
The example of the protest in the park at the Drama Theater in Yekaterinburg (May, 2019) examines the phenomenon of post-materialist protest. Based on the concept of R. Inglehart, the authors put forward the thesis of a long-term trend towards the "post-materialization" of protest activity in modern Russia. More rarely, the reasons for protest are purely socio-economic reasons (pension reform, poverty, rising prices, etc.), and increasingly political (struggle for freedom, civil rights, etc.), environmental, cultural, etc. d. In Yekaterinburg, in particular, the struggle against the development of the square gathered a significantly larger number of people and attracted much more media attention than the protest against pension reform (August 2018). The authors, together with the VTSIOM, conducted a series of semi-structured interviews with 20 participants in the May protest in order to reconstruct various strategies for participating in the protest and to give a detailed idea of ​​the motives for participation. As a result, the authors come to the conclusion that the motivation of the participants in the May events in Yekaterinburg allows us to attribute this protest to post-materialist ones.
Acknowledgement. The article was prepared as part of the work on the RFFR project № 20-411-660027 "Monitoring and Forecasting of Social Conflicts in Sverdlovsk Region in 2020—2022".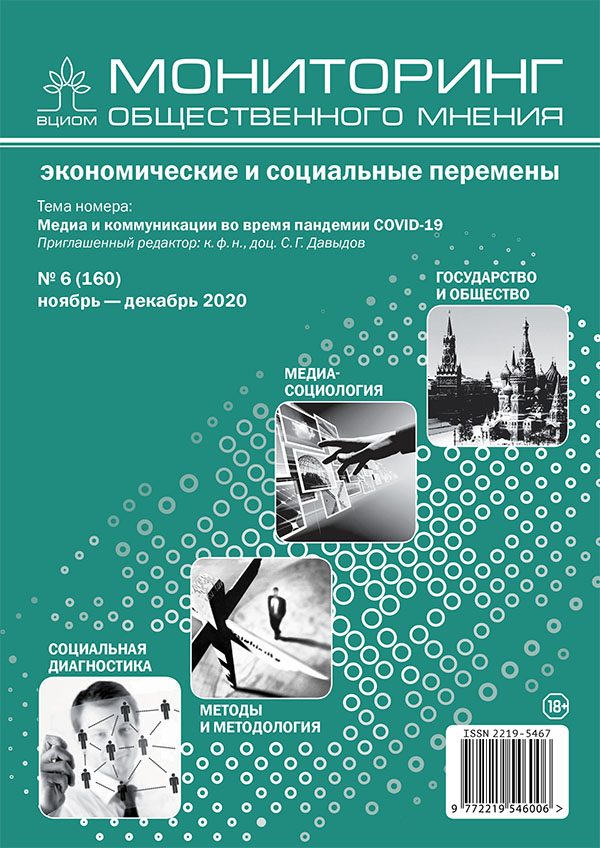 Section
STATE AND SOCIETY
Copyright (c) 2020 Monitoring of Public Opinion: Economic and Social Changes Journal (Public Opinion Monitoring) ISSN 2219-5467
This work is licensed under a Creative Commons Attribution-NonCommercial-ShareAlike 4.0 International License.