The impact of digital communication on Russian youth professional culture: results of a comprehensive applied study
Keywords:
digitalization of education, Russian youth, professional culture, digital and professional competence, negative impact of digital environment, anti-destructive immunities, mass online survey, expert interview, hall-test
Abstract
The main problem of the research is to determine the scale, direction and effectiveness of the impact of digitalization on the formation of professional culture among Russian youth. This influence is studied in the context of the intensification of information flows in social media, the development of new formats and network communication channels, the maturation of "generation Z" whose socialization and professionalization takes place mainly online. The authors raise questions consisting in identifying the relationship of the role of socio-cultural and digital environments in the formation of professional culture of Russian youth; comparing the importance of traditional and digital communication channels used by young Russians in their professionalization; establishing the specifics of professional and socio-cultural adaptation in the conditions of intensive development of digital technologies; identifying constructive and destructive effects of digitalization in the process of assimilation of values, norms, strategies of professional behavior; analyzing formal and informal digital space of professional self-determination and development among Russia's youth.
The design of the study is based on a hybrid strategy of empirical analysis combining (1) a mass survey in the form of online survey on the most important channels for Russian youth, online content formats and search technologies, the content of the most popular online resources related to vocational education and self-education; (2) an expert interview which provides data on the state, trends, prospects of the impact of education digitalization on the formation of youth professional culture, the destructive impact of the digital environment on the professionalization among young people, and the anti-destructive immunities; and (3) a hall-test which allows to identify the level of Russian youth ability to differentiate digital products, to assess their adequacy, completeness, objectivity, and social significance.
The key result of the study is the segmentation of Russian youth into the so-called "idealists", "pragmatists" and "traditionalists". The typology establishes the relationship between professional, value attitudes, online behavior strategies, as well as socio-demographic characteristics. A focus on conscious professional choice, active, voluntary and progressive professionalization ("idealists" and "pragmatists") is associated with active professional Internet communication, an ability to manage network interaction risks. On the contrary, rigidity and constraints in professional choice strategy ("traditionalists") correlate with the fragmentary nature of professional Internet communication and a lack of established anti-destructive immunities. Specific characteristics of professional, civil, socio-cultural adaptation of Russian young people and their network communications determine the nature of the anti-destructive immunities in digital environment.
Acknowledgement. The research work is performed as part of the 2018 state task conducted by the Financial University under the Government of the Russian Federation and titled "The impact of modern digital communications on the formation of professional culture among young people" (NIR no.42).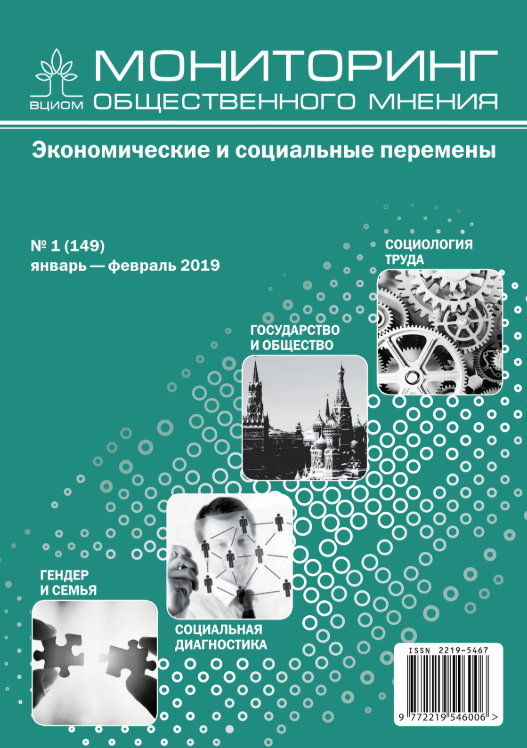 Section
SOCIOLOGY OF THE INTERNET