Transnationalism Online: Migration Research in the Age of Artificial Sociality
Keywords:
migration to Russia, transnational migration, digital ethnography, online observation, network analysis, human-algorithm interaction
Abstract
Migration to Russia from the CIS countries poses various research problems for social scientists. Diversity of migration flows and difficulties in access to the field lead to various researchers seeing different fragments of the overall picture, which do or do not match with each other. This paper aims to interpret and compare several research findings obtained in the study of digital 'traces' of transnational migrants' online activities. The paper seeks to answer two questions: Which aspects of migration processes manifest in the collected data, and which ones elude from the researchers' view? How do the research findings and limitations correspond to the properties of the online milieu that are organised by search and classification algorithms? The research is based on two online data types: groups in VKontakte, the Russian largest social media, and sites found using the Google search engine. This data characterises migration to Russia from five countries: Azerbaijan, Kazakhstan, Kyrgyzstan, Tajikistan, and Uzbekistan, and was collected in six languages (Russian and the languages of the countries of origin). The methods of analysis are network analysis, online observation, and content analysis. The paper characterises data collection and analysis steps and presents the main research results for each of the methods. In conclusion, the authors discuss how the research findings are related to each other, what conclusions could be drawn about transnationalism in Russia, and how to organize a study in the online milieu considering various algorithms' active role.
Acknowledgments. The study was supported by the Russian Science Foundation, grant no. 18-78-10049.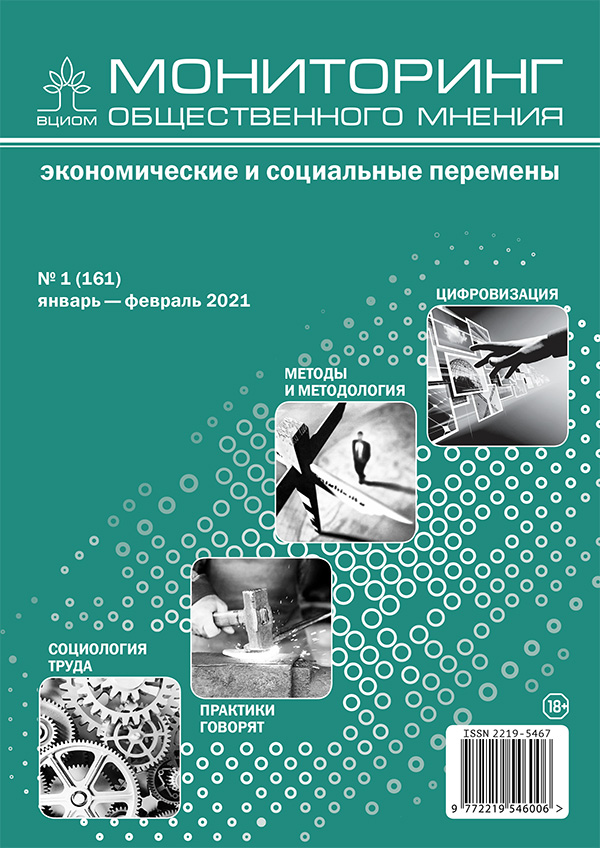 Section
METHODS AND METHODOLOGY
Copyright (c) 2021 Monitoring of Public Opinion: Economic and Social Changes Journal (Public Opinion Monitoring) ISSN 2219-5467
This work is licensed under a Creative Commons Attribution-NonCommercial-ShareAlike 4.0 International License.