Socio-Psychological Preconditions and Effects of Trust in Social Institutions in a Pandemic
Keywords:
social trust, trust in social institutions, pandemic, COVID-19, anxiety, coping strategies, communication gap
Abstract
The crisis caused by the COVID-19 pandemic has exacerbated the problem of trust in Russian society — interpersonal, generalized, institutional. In the course of mass polls during April-May 2020, we recorded a low and declining level of trust in official information about the coronavirus, a low level of trust in social institutions — the state, the media, healthcare and science. Conspiracy theories about the origin of the virus and the belief that the threat is being exaggerated have become widespread. The purpose of the article is to consider, on the basis of a series of empirical studies, socio-psychological factors influencing trust/distrust in social institutions during a pandemic, the main types of attitudes towards a pandemic, as well as the influence of the level of trust on the readiness to comply with sanitary and epidemiological requirements. Data: a mass surveys of the population based on an opt-in panel of respondents (N = 1000), an online survey using socio-psychological scales (N = 668), in-depth interviews (N = 60 interviews). Our research shows that the decline in trust in the media and the authorities was caused by contradictions in official information and inconsistency in the actions of government officials, a lack of empathy and two-way communication, a sense of injustice and disappointment with broken promises. In a pandemic, the level of trust is associated with belief in the justice of the world, the search for social support, the moral foundations of loyalty and care, and an orientation towards taking into account long-term consequences. At the same time, the trust-related issues have a pragmatic aspect in a pandemic situation: the level of social trust affects the willingness to follow the recommendations of experts and to be vaccinated, optimism about the future, the level of anxiety and coping strategies, and belief in conspiracy theories. Prospective directions of research of social trust and its socio-psychological functions in conditions of global risks are outlined.
Acknowledgments. The study is supported by the Russian Science Foundation grant (project No. 18-18-00439 "Psychology of human beings in conditions of global risks").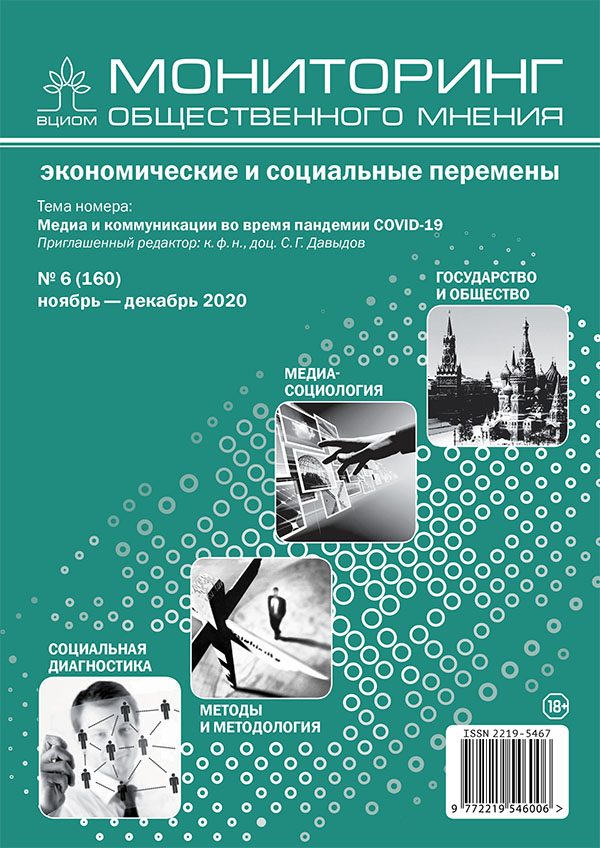 Section
SOCIAL DIAGNOSTICS
Copyright (c) 2020 Monitoring of Public Opinion: Economic and Social Changes Journal (Public Opinion Monitoring) ISSN 2219-5467
This work is licensed under a Creative Commons Attribution-NonCommercial-ShareAlike 4.0 International License.