'I Will Go Home', With 'Home' Meaning 'Basement': Homeless Women's Daily Practices and Coping Strategies
Keywords:
gender, homeless women, home, life on the street, copying strategies
Abstract
The article considers daily practices and coping strategies of the homeless women with a focus on how the homeless women live through, survive and cope with hardships. The author singles out two trajectories of how people become homeless: they either lose their home as a result of fraudulent property transactions, a fire or an accident or are forced to leave their home. The article also examines three ways to put up with homelessness: to seek help from charitable organizations; to ask family and friends for help; to normalize life on the streets. The article highlights that homeless women are "invisible" and describes the causes of female homelessness and survival strategies.
Acknowledgments. The author expresses sincere gratitude to the scientific advisor N.A. Nartova for her help in writing the Master's thesis, organizations and point men who made it possible to get access to the field as well as anonymous reviewers whose comments and remarks helped improve and finish the article.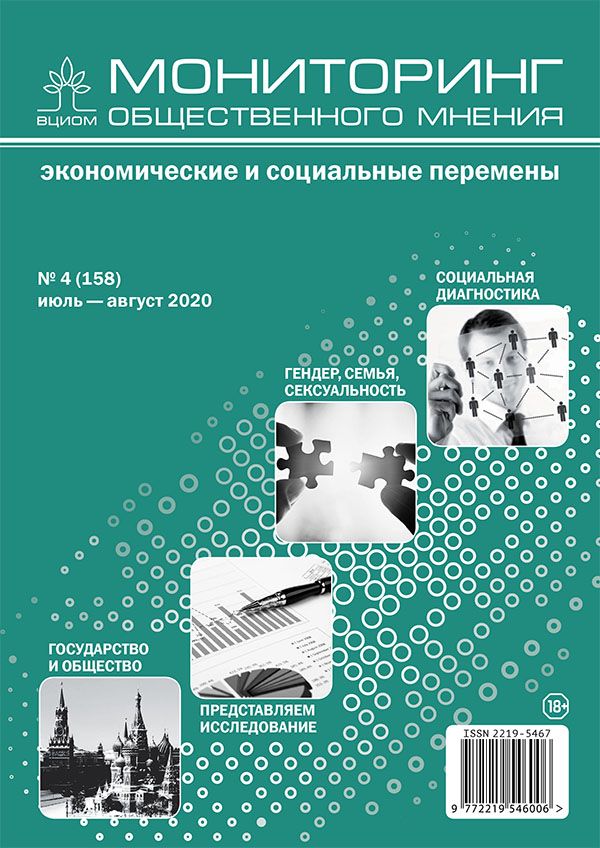 Section
GENDER, FAMILY, SEXUALITY: FOLLOWING IGOR S. KON (16+)
Copyright (c) 2020 Monitoring of Public Opinion: Economic and Social Changes Journal (Public Opinion Monitoring) ISSN 2219-5467
This work is licensed under a Creative Commons Attribution-NonCommercial-ShareAlike 4.0 International License.