Motives of Youth Participation in Election Campaigns
Keywords:
volunteering , political activity of youth, election campaigns, political technology , motives for participation
Abstract
The combination of the words «youth» and «politics» is often associated with rallies and protests. And this is true, given the average age of participants in such actions. However, this article is not about protests, but about young people doing certain work in the framework of election campaigns.
Young people distribute campaign leaflets, collect signatures in support of their candidates, organize meetings with voters, etc. They can be easily recognized by their bright clothes with party symbols or badges with the names of candidates. These young people are commonly referred to as political volunteers. The main questions of the article are: How fair it is to classify them as volunteers. What drives them? Under what conditions do they engage in this activity?
The empirical base of the article includes 31 interviews with young people aged under 28 years old (schoolchildren, students, graduate students, young workers), who participated in election campaigns at various levels.
The study identified several forms of youth participation in election campaigns, such as observers at voting points, members of election commissions, street agitators, their coordinators, and campaign staff. These activities are different in terms of their functionality, working conditions, and pay.
The interviews allowed to determine five types of motivation of young people working in election campaigns: (1) to have a good time («to hang out»), (2) to contribute to building a career, (3) to make money, (4) to prevent voting irregularities («for fair elections»), (5) to help candidates or parties whose political position is shared by the young person.
Thus, the range of incentives is quite wide, and the activities of election campaigners may not be related to their political beliefs or ideas about the benefits to society. The activity of young people participating in the campaigns of opposition candidates is usually based on their political position, which does not exclude remuneration, but makes it an optional element of this activity. Pro-government political candidates attract young people to participate in their campaigns, using either administrative coercion or material incentives and promises of career growth.
Acknowledgments. The study is funded under the project «Participation of young volunteers in election campaigns: a form of politicization of youth or a 'black box' of Russian electoral practice?» supported by the Russian Foundation for Basic Research (RFBR).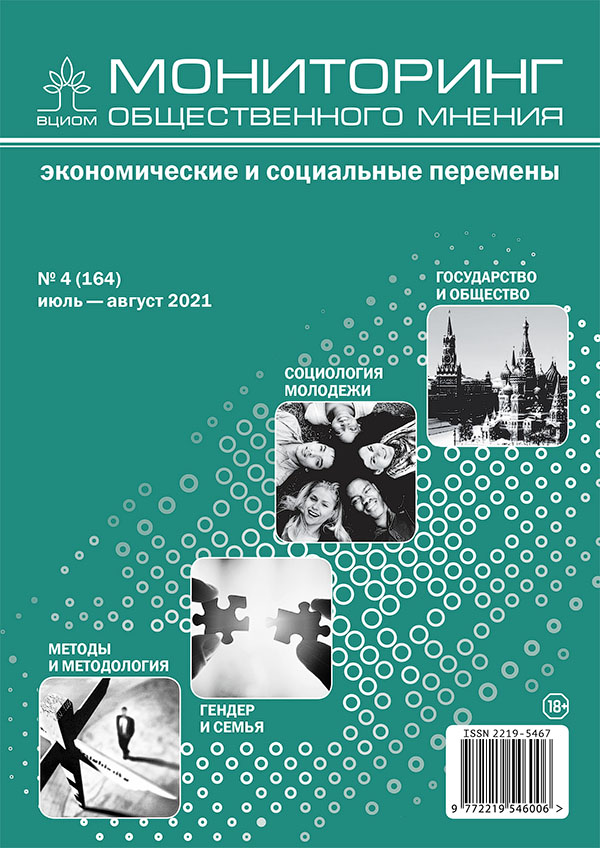 Section
SOCIOLOGY OF YOUTH
Copyright (c) 2021 Monitoring of Public Opinion: Economic and Social Changes Journal (Public Opinion Monitoring) ISSN 2219-5467
This work is licensed under a Creative Commons Attribution-NonCommercial-ShareAlike 4.0 International License.