Is It Difficult or Easy to Be an Engaged Citizen During the Pandemic Outbreak?
Keywords:
сivic participation, actively engaged citizens, social capital, trust, citizen engagement, volunteers, volunteering, active citizen participation
Abstract
The paper regards factors affecting the perceptions of active citizens. Basing on the quantitative and qualitative data (April—May 2020) collected during the COVID-19 self-isolation period, the authors examine a relationship between the perception of actively engaged citizens and the components of human capital — educational level, professional status, and financial well-being.
The study shows that the perception of active citizens correlates with social and human capital indicators. A positive view of being an actively engaged citizen is shared by those who demonstrate a high level of personal trust and feel responsible for what is happening in their community. These people are also confident that the level of trust in the country has grown over the past month, the willingness of people to help each other has increased, and volunteering in Russia is developed well enough to cope with the coronavirus pandemic. Young people and those who feel happy are more optimistic about active citizens. Representatives of older age groups and those who have relatively low indicators of human and social capital, on the contrary, believe that it is difficult to be a socially active person. The latter group is characterized by external locus control and a belief that the willingness to help in the country has decreased lately, while volunteering is still poorly developed.
The study revealed the ambivalent attitude of Russians towards active citizens. On the one hand, during the pandemic, the majority believed that society approves of active people. On the other hand, Russians believe that it is difficult to be active citizen, and express negative stereotypes, suspecting activists of ambition and self-interest. The data indicate that this ambivalence arises due to the mismatch between the replicated goals of public activity and the skepticism of respondents regarding its motives. Therefore, the perception of active citizens depends on how convincingly their motivation and positive results of activity are presented to public.
Acknowledgement: Support from the Basic Research Program of the National Research University Higher School of Economics is gratefully acknowledged.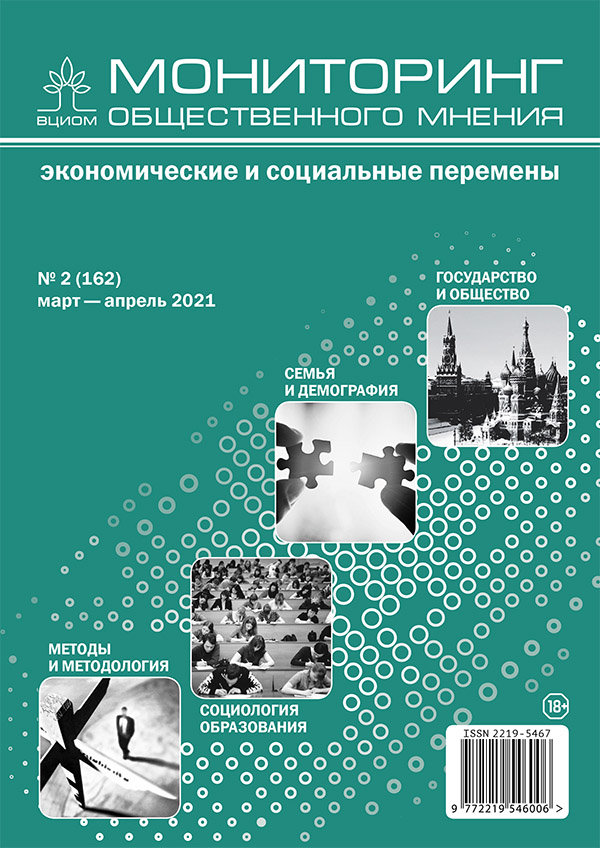 Section
Sociology of everyday life
Copyright (c) 2020 Monitoring of Public Opinion: Economic and Social Changes Journal (Public Opinion Monitoring) ISSN 2219-5467
This work is licensed under a Creative Commons Attribution-NonCommercial-ShareAlike 4.0 International License.