Wealthy or Poor: What Does Russia's Young People Think about Future Old Age, and What Do They Intend to Do?
Keywords:
youth, old age, pension, employment, savings, individual pension savings, guaranteed pension plan
Abstract
The Russian state highlighting the importance of the economy's demand for long-run money and a need to increase the quality of life for the retired persons seeks to engage populations in individual pension savings plan. In particular, a Guaranteed Pension Plan (GPP) was introduced in 2019. Youth is one of the beneficiaries of the pension accumulation tools. The study undertaken by the authors examines what young people think about their future old age, how they perceive the GPP, whether they are ready to participate in it, and what benefits it may bring to the beneficiaries. The research methods included a questionnaire survey among the Moscow residents aged 30 and below (N = 500) and focus group interviews with young people from Moscow (N = 4).
Most of respondents are not willing to participate in the GPP; the older they are, the less likely they are ready to join the scheme. The main reasons behind that are insufficient income and, more importantly, lack of trust in non-state pension funds.  Young people who do not count much on pension plans are going to live off savings, rental income, income from commercial activities, when they retire, or to keep working after the retirement age. Young people tend to be quite optimistic despite their doubts concerning a stable job until retirement, an opportunity to save up money or their ability to find a job late in life: many of them expect to have a safer old age than that of the today's retired persons. Thus, the situation of today's elderly people is absolutely inconsistent with the youth's ideas about a decent old age; they regard it as unjust or think it belittles the labor contribution.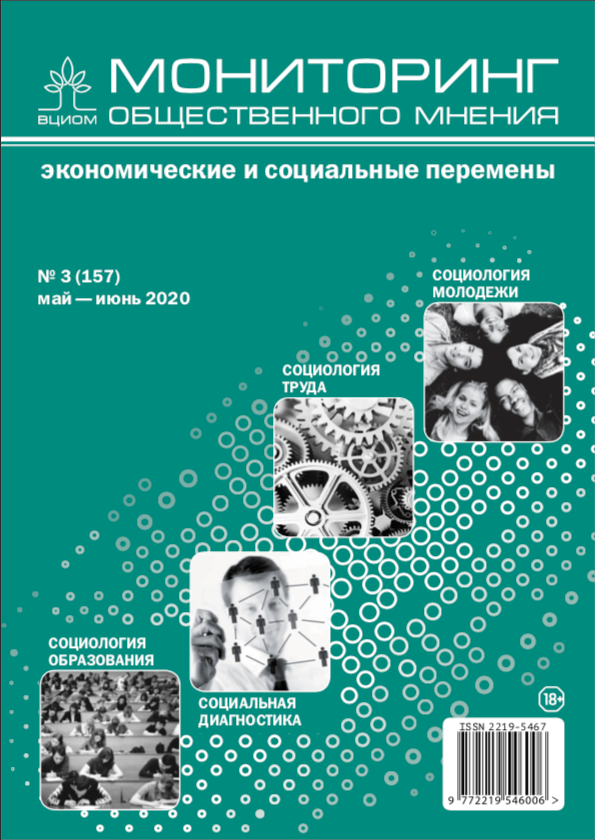 Section
SOCIOLOGY OF YOUTH
Copyright (c) 2020 Monitoring of Public Opinion: Economic and Social Changes Journal (Public Opinion Monitoring) ISSN 2219-5467
This work is licensed under a Creative Commons Attribution-NonCommercial-ShareAlike 4.0 International License.