Engaging Older People in Volunteering and Civic Activities As a Tool to Overcome Social Exclusion
Keywords:
aging, older generation, volunteering, NGOs, social exclusion
Abstract
The article analyzes the activities of NGOs designed to bring older people into volunteering and civic participation. The author relies on the concept of social inclusion covering a number of domains: civic participation, services/ mobility, habitat/local community, etc. The study is based on 9 semi-structured interviews with heads of non-profit organizations, experts from different Russian cities, materials from websites and reports of NGOs, observation on the activities of NGOs and conversations with elderly volunteers. Two non-profit organizations operating in St Petersburg and Leningrad oblast are considered in detail as empirical case studies. The findings suggest that the activity of older communities as part of NGO activities often go beyond topic-specific associations. Participants become friends, start seeing one another and arrange joint celebrations; they actively help different social groups including the homeless, orphans, handicapped people; they create new communities and interact with local authorities to promote their own ideas; they also try to participate in intergenerational exchange projects. These activities help them overcome social exclusion in such areas as social relations, local communities and habitat, civic participation, socio-cultural sphere. Volunteering and civic activities enhance social inclusion not only among elderly "activists" but also among those they help.  Difficulties promoting volunteering and civic participation are as follows: absence of stable patterns of "active lifestyle" in old age; reluctance to help; fear; absence of regular and well-organized training and support for volunteers; negative experience and subsequent disappointment.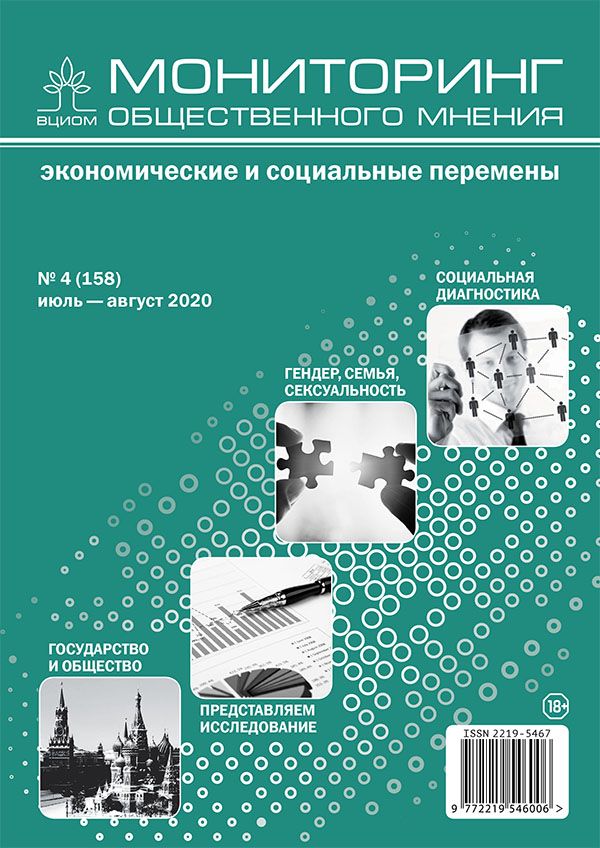 Section
SOCIAL DIAGNOSTICS
Copyright (c) 2020 Monitoring of Public Opinion: Economic and Social Changes Journal. Public Opinion Monitoring ISSN 2219-5467
This work is licensed under a Creative Commons Attribution-NonCommercial-ShareAlike 4.0 International License.