Social Adaptation, Social Capital and Population Health in the Vologda Region
Keywords:
social adaptation, social capital, health, mental well-being, adaptive resource, social support
Abstract
Today there is a need to systemize knowledge about the relationships between health and social adaptation, social stratification on the "social adaptation – desadaptation" criterion. However socio-cultural and economic regional specifics may affect the resources and population adaptive strategies. The paper aims to study social adaptation of people living in the Vologda region, the relationships between adaptation and health and to assess social capital as an adaptive resource. The empirical basis of the study encompasses the data of a survey conducted in the Vologda region (a sample size of 1,500 persons).  By means of factor analysis the author singles out three social adaptation indicators to draw up a typology of the region's population. The study shows that the Vologda region inhabitants who are provided with social assistance are more likely to have a positive mental state. They are less likely to be stressed or to be anxious; in a difficult situation they would willingly ask their family, friends and neighbors for help. On the contrary, people who have their internal resources tend to be more satisfied with their life and social status; nevertheless they feel stressed more often than those people who get support from people around. The inhabitants of the region with the signs of social adaptation tend to be more frustrated, more vulnerable to stress and less confident in their future. In addition, they are more likely to find excuses for their deviant behavior and to resort to it to cope with stress. The article stresses that social support is a more effective adaptive resource for the region's population.  The paper's novelty consists in revealing the peculiarities of social adaptation among the Vologda region inhabitants, detecting groups of population which differ by their adaptation level and resources with an emphasis on personal (internal) and social (external) resources.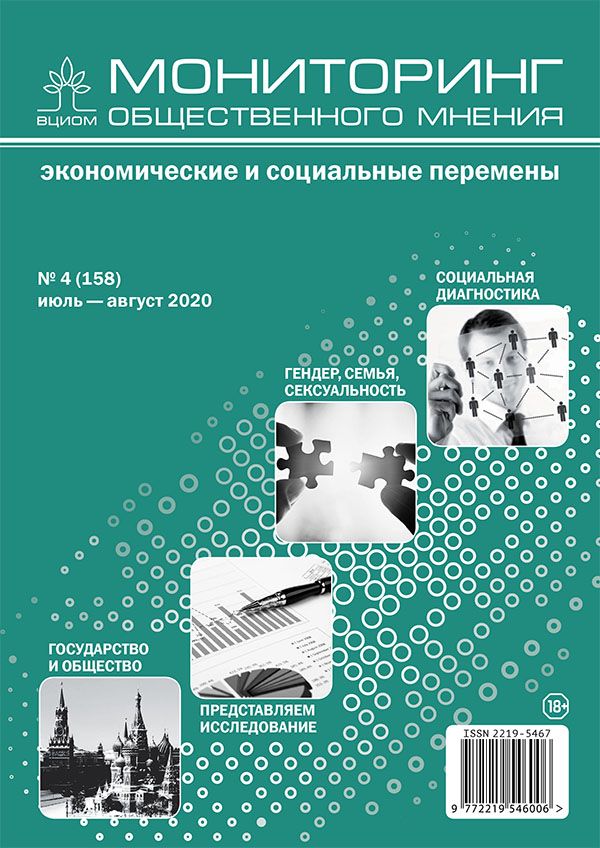 Section
SOCIAL DIAGNOSTICS
Copyright (c) 2020 Monitoring of Public Opinion: Economic and Social Changes Journal. Public Opinion Monitoring ISSN 2219-5467
This work is licensed under a Creative Commons Attribution-NonCommercial-ShareAlike 4.0 International License.