University Students Combining Working and Studying: Conflict or Facilitation?
Keywords:
combining work and study, satisfaction with education, student performance, well-being, university students
Abstract
The paper is based on the data of a survey among students from a St Petersburg multispecialty university and semi-structured interviews and investigates the conditions under which combining working and studying negatively impact full-time students and, on the contrary, the circumstances that bring them benefits. According to the findings, those students who are less satisfied with their university, their profession and living conditions are more likely to combine working and studying. In addition, they have higher levels of mental well-being. Students combining work and study tend to more often miss classes but this has no impact on their performance. Effects differ depending on the group of students combining jobs and studies: girls and lower-year students are more likely to have a work-study conflict. Work-study facilitation is more typical of those students who deliberately strive to get the desired profession as well as those who have higher mental well-being levels. The analysis of the interviews helped to detect two types of strategies to combine two spheres: institutionally-supported strategies and self-management strategies.
Acknowledgements. The article is funded under RFBR grant no. 17-29-02438/17, "Psychological, social and environmental health-related resources of students at different stages of education in modern Russia", 2017-2019.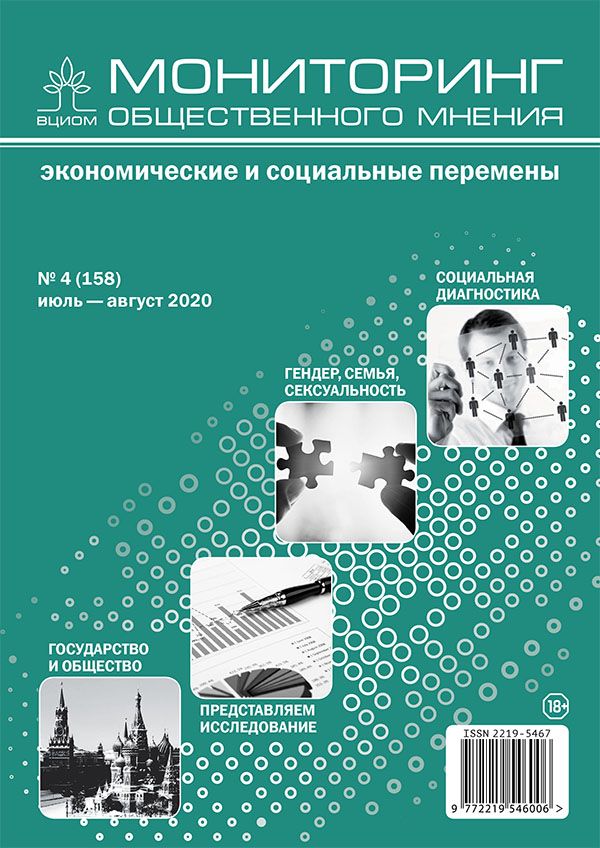 Section
SOCIOLOGY OF EDUCATION
Copyright (c) 2020 Monitoring of Public Opinion: Economic and Social Changes Journal (Public Opinion Monitoring) ISSN 2219-5467
This work is licensed under a Creative Commons Attribution-NonCommercial-ShareAlike 4.0 International License.