Centripetal Migration of Young People from the Russian Province: Causes and Trends (Example of Volgograd Region)
Keywords:
internal migration, sociology of youth, migration factors, massive youth outflows, demographic potential of the region, image of the region, social capital, youth policy
Abstract
Migration outflow of youth and working-age population has been trending in the Volgograd oblast over the last years. Despite dynamic immigration from Ukraine and the Central Asian countries, the regional population size is steadily going down, along with a decrease in demographic and intellectual capital. This is facilitated by the negative image firmly rooted in the public mind and shaped by mass media; the region is often referred to as the "most depressing", "economically retarded" and "highly corrupt" region in the ratings. Strange as it may seem, but despite the fact that the youth migration, its causes, trends and contradictory consequences are well studied, little is known about the regional specifics, cultural and anthropological aspects, such as the region's image, local identities, cultural stereotypes, values and youth life strategies.
The authors aim to partially fill the gap and to reveal the specifics, causes and trends of the youth outflow from the Russian province based on the analysis of the data collected during the survey and focus group interviews involving students from colleges and secondary schools in the Volgograd oblast as well as the expert community.
Acknowledgments. The study is funded by the RFBR and Volgograd oblast as part of the research project no. 18-411-343002.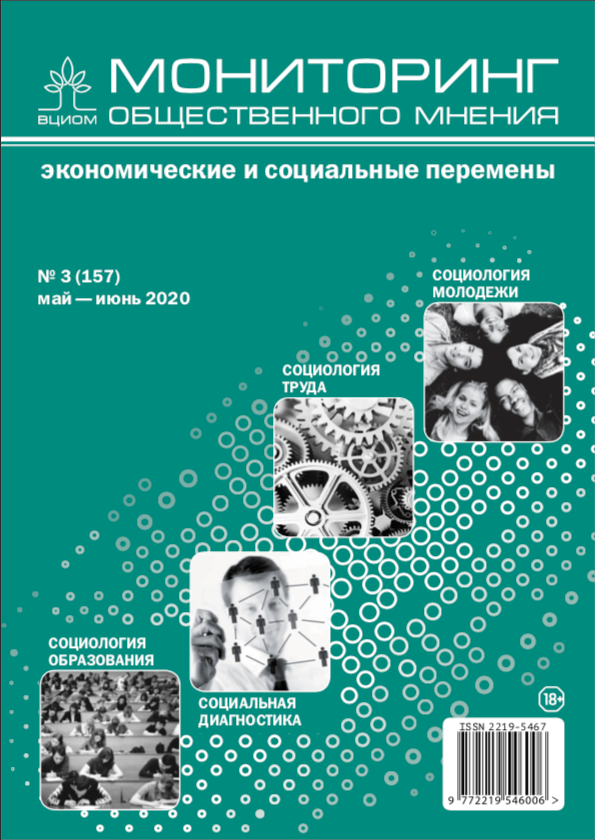 Section
SOCIAL DIAGNOSTICS
Copyright (c) 2020 Monitoring of Public Opinion: Economic and Social Changes Journal. Public Opinion Monitoring ISSN 2219-5467
This work is licensed under a Creative Commons Attribution-NonCommercial-ShareAlike 4.0 International License.