AUE youth organization as an integrated phenomenon of the Russian postmodernity
Keywords:
youth subculture, youth movement, post-youth, criminal subculture, patrimonialism, postmodernity, political culture, clientele
Abstract
The article is devoted to the analysis of the AUE phenomenon (Convict's Codex is Unified) using a Siberian Federal District case study. The author bases the analysis primarily on neo-institutional and post-structuralist approaches.  The paper considers non-formal aspects of the AUE institution functioning related to the relationships between the nodes forming various forms and models of network interactions. The purpose of the study is the need for scientific analysis and interpretation as well as the importance to design ways to prevent and detect this phenomenon. The research problem is the contradiction between today's approaches towards interpretation of the AUE phenomenon and inability to create effective youth policies to prevent it.
The study is founded on empirical material gathered by the author in Siberian Federal District in cooperation with the "Siberian Politics" Foundation in 2017 - early 2018. The empirical part includes 9 focus groups, a survey of high school students (920 respondents), a focused interview and an expert survey.
The author argues that the AUE structure includes three partly overlapping phenomena: criminal youth subculture, rhizomatous youth movement, and criminal youth organization. However, the author proves that the AUE phenomenon cannot be fully identified with any of them.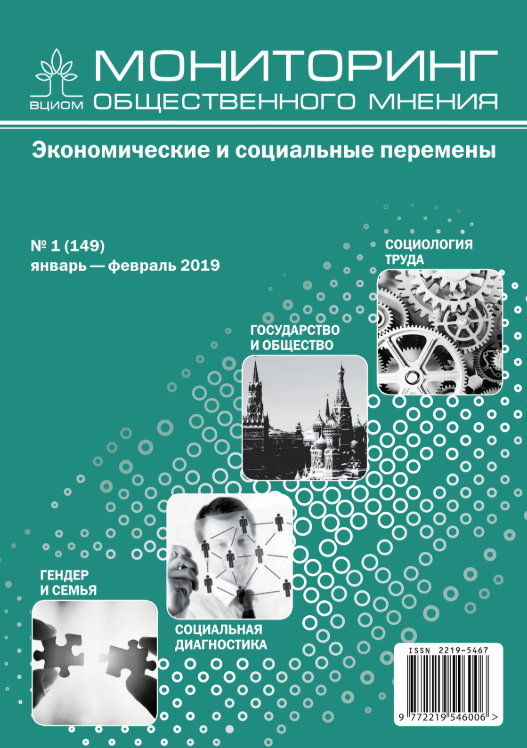 Published
2019-02-12 — Updated on 2020-08-18
Section
SOCIAL DIAGNOSTICS
Copyright (c) 2019 Monitoring of Public Opinion: Economic and Social Changes Journal. Public Opinion Monitoring ISSN 2219-5467
This work is licensed under a Creative Commons Attribution-NonCommercial-ShareAlike 4.0 International License.