Crimea in expectation of changes: socio-economic context
Keywords:
social sentiments, living standards, economic adaptation, social adaptation, institutions, business environment, incomes of population, consumer prices, interethnic relations, Crimean Tatars
Abstract
In this article, the author presents the analysis of problems that the inhabitants of Crimean consider as their most pressing and most important problems. The article also deals with reactions of various socio-demographic and ethnic groups to these problems and social sentiments of the Crimean inhabitants. The author analyzes: the state of interethnic relations; trends in the socio-economic development of the region and the standard of living of the population; interrelation of economic and political problems; the transformation of the economic environment and institutions; beneficiaries and materially losers after 2014; prospects and factors that will determine shifts in public sentiments and attitudes in forthcoming years.
The political conflict that acquired the form of inter-ethnic confrontation now is history. Socio-economic issues that have actualized the problems of survival have come to the fore. All socio-economic groups, except old age pensioners and government employees, have found themselves in a difficult economic plight. Problems of interaction between elites that migrated to Crimea from "the continent" and local, Crimean elites, apprehensions about forthcoming redistribution of the market and repartition of spheres of influence that overlap the difficulties of transition to the Russian legal terrain (problems with loans, permanent change of laws, obsolete systems of accounting and banking service) create not the best business climate in Crimea, particularly for small business. The population's discontent is caused by the Russian bureaucratic machine, staff turmoil, corruption, symbiosis of power and business. Inhabitants of Crimea note that they have found themselves in a worse situation than other Russians because the sanctions imposed by the West affected them harder than other Russian territories.
If in the first years after inclusion of Crimea the key request was the request for stability, then now new requirements are ripening: requirements for prospects, for changes. The Crimean bridge and route "Taurida" are the symbols of new expectations, radical positive changes of the Crimean population's living standards. However, it is difficult to predict how the increased mobility of Crimean inhabitants, upsurge of labor migrations and resettlements from Crimea (resettlements of people who live on the eastern coast of the peninsula in particular), will affect the situation at the labor market and with employment in Crimea. In the end, the author comes to the conclusion that year 2019 will define new challenges and one of the first challenges will be the erosion of the Crimean people's positive expectations. In this article used the data of qualitative sociological studies conducted by the Institute of Sociology of FCTAS RAS during the summer of 2017.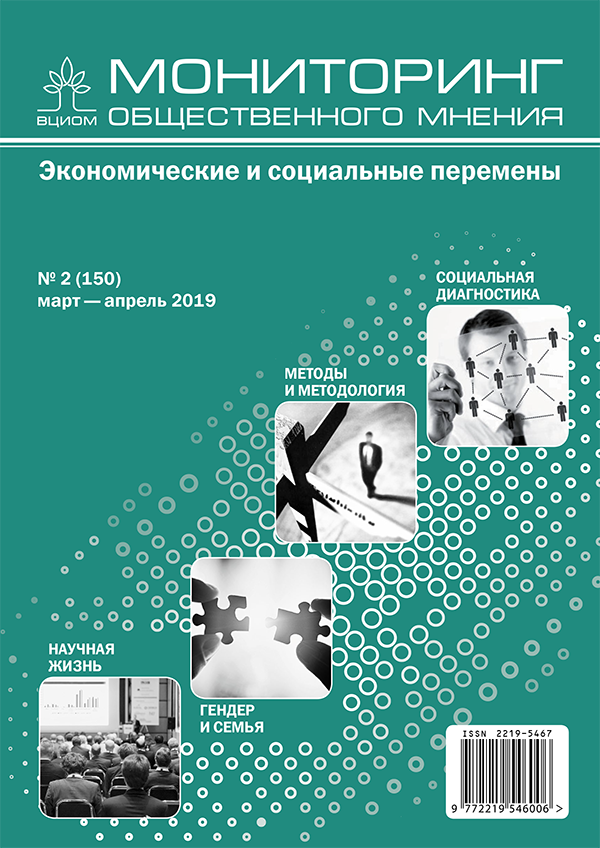 Section
SOCIAL DIAGNOSTICS