Trust as a Bridge Over the Uncertainty Gap Between the Government and Society
Keywords:
political trust, social contract, state as a platform, social norm, political networks, interests-morality balance
Abstract
The present time is characterized by an increase in social risks, which are associated with negative legal, spiritual, moral and ethical consequences of the transition to a new digital technological structure. This leads to an increase in the gap between the socio-economic and political expectations of people, on the one hand, and the fulfillment of their promises by the authorities, on the other. For this reason, the problem of public trust in the authorities is of great importance. In these circumstances, trust in the state policy becomes a key factor that gives citizens confidence in the future, increases their personal responsibility and the effectiveness of their activities. Trust is based on the common ideological position of the authorities, business and civil society on the main priorities and the most important areas of development, enshrined in the corresponding social contract. In such a society, participants may associate themselves with the "we-group" that means mutual trust and solidarity. The article analyzes the prerequisites and ways to achieve the state of "we are a group" and shows the fundamental possibility of managing public trust in the government by harmonizing the interests of the main actors.
Acknowledgments. The article was written with the financial support of the Russian Foundation for Basic Research, Grant No. 20-011-31357 "Ways to manage trust in the authorities, forestall threats and challenges to regional socio-political stability".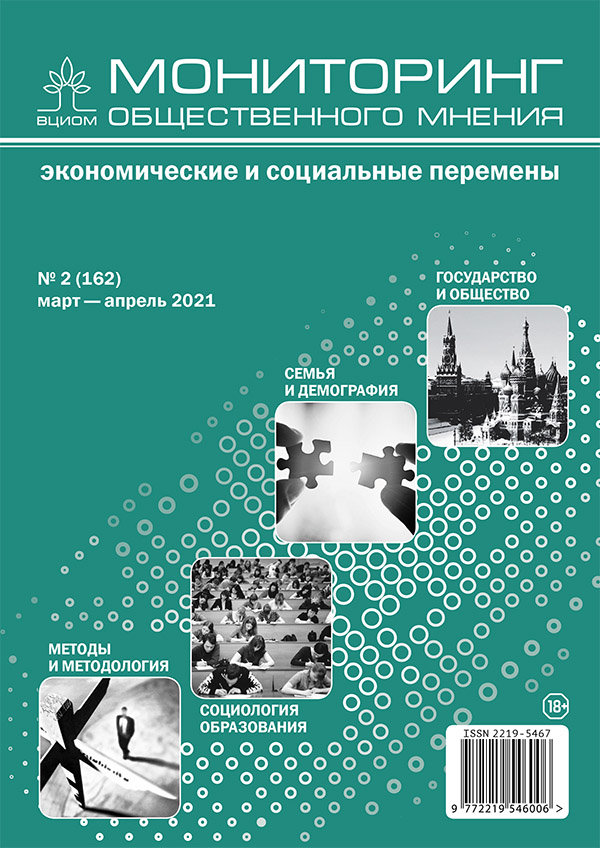 Section
STATE AND SOCIETY
Copyright (c) 2021 Monitoring of Public Opinion: Economic and Social Changes Journal (Public Opinion Monitoring) ISSN 2219-5467
This work is licensed under a Creative Commons Attribution-NonCommercial-ShareAlike 4.0 International License.