Doula's Work, Public and Intimate: Professional Care, Self-Organization and Activism
Keywords:
doulas, professional care, ethics of care, authoritative knowledge, professional self-organization, reproductive justice
Abstract
Doulas are a new professional group whose task is to provide physical, emotional and informational support to women during the perinatal period (before, during and after childbirth). Doulas appeared in Russia quite recently, about 10 years ago, but they have already managed to achieve recognition as independent perinatal specialists. Treating doulas as a new caring profession places us at the very center of the current debate about the ways of conceptualizing care and the status of professional groups providing emotionally involved care, initiated by the feminist scholars who criticized the neo-Weberian understanding of profession. The article examines such contradictory features of a doula professional project as: pronounced professional identity and professional self-organization (training, certification, professional associations) in the absence of the official status; appeal to medical knowledge in the absence of medical education; a combination of intimate work and activism. The research is based on the field materials, primarily, on the in-depth interviews with the representatives of the Russian doula community.
Acknowledgment: The article was prepared within the framework of a grant provided by the Ministry of Science and Higher Education of the Russian Federation (Grant Agreement No. 075-15-2020-910).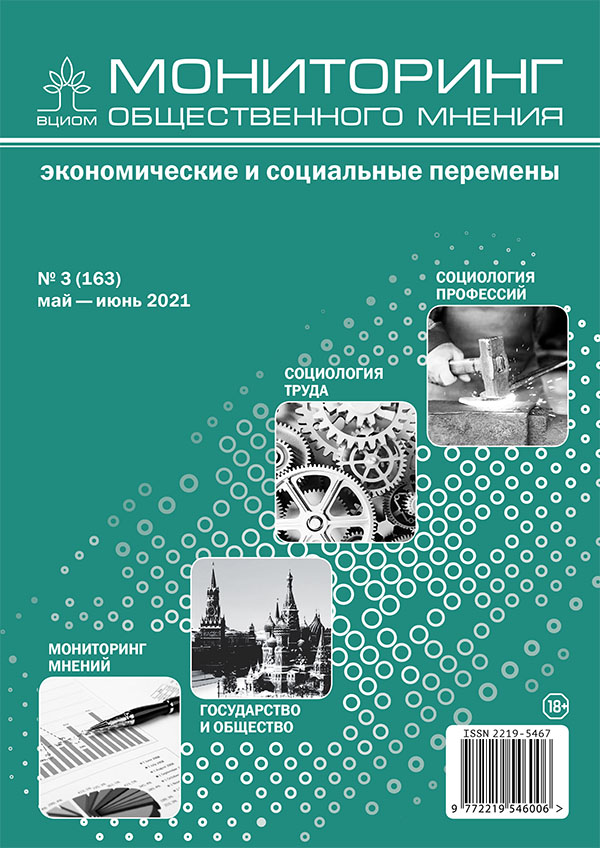 Section
Sociology of professions
Copyright (c) 2021 Monitoring of Public Opinion: Economic and Social Changes Journal (Public Opinion Monitoring) ISSN 2219-5467
This work is licensed under a Creative Commons Attribution-NonCommercial-ShareAlike 4.0 International License.