Measuring Psychosocial Risks and Quality of Work Life Among Russian Professionals
Keywords:
quality of work life, psychosocial risks, work environment, job satisfaction, human resources management
Abstract
The paper discusses the potential of measuring psychosocial risks while estimating overall quality of working life among Russian professionals. The authors propose the system of psychosocial indices characterizing the degree of psychosocial risks in the working environment. Empirical base of the study consists of the standardized survey of 1100 specialists in the business sector coming from four categories: technology, IT, finance, and marketing/HR. The study shows that traditional indicators of work life quality (e.g., job satisfaction) might be insufficient, while proposed psychosocial indices allow to assess it more deeply. Following the JD-R model developed by Bakker and Demerouti, the authors select the aspects involving interpersonal relations between co-workers, the content of the work, as well as the balance between personal and corporate values as resources that can buffer such demands of the organizational environment as a low degree of autonomy, increased work intensity and instability of the working environment. In this respect, the psychosocial aspects play the main role in balancing negative factors and forming high subjective working life satisfaction. The authors conclude that the detection of «red zones» of psychosocial risks requiring close attention should be an essential management practice in order to prevent professional stress and its consequences affecting both the workers and the company.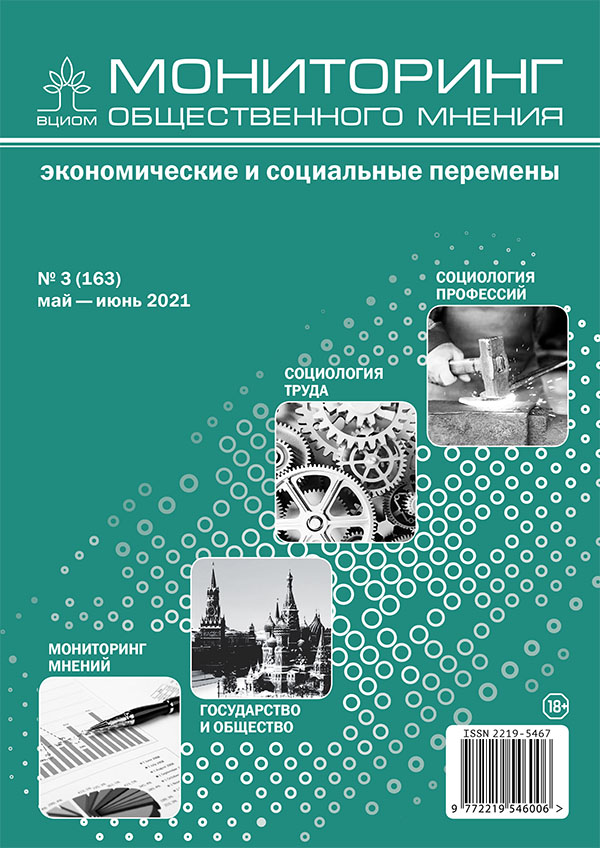 Section
Sociology of professions
Copyright (c) 2021 Monitoring of Public Opinion: Economic and Social Changes Journal (Public Opinion Monitoring) ISSN 2219-5467
This work is licensed under a Creative Commons Attribution-NonCommercial-ShareAlike 4.0 International License.