Phubbing: Peculiarities of Addictive Behavior of the Youth
Keywords:
phubbing, smartphone addiction, ignoring a partner, addictive behavior, phubbing victim
Abstract
The article reviews the results of foreign sociological and psychological studies on phubbing behavior and Internet addiction over the past 10 years. We represent the results of an empirical study of Russian youth (N = 525) carried out in 2019 with the aim of identifying their addiction from smartphones and manifestations of phubbing in the context of interpersonal dependence (method by R. Girshfield). The survey involved young people from different regions of Russia (72% of girls and 28% of boys; average age 22.3 years). In conclusion age and sex differences in dependence on gadgets among the youth have been confirmed and specified. We also reveal the relationship between phubbing behavior and self-doubt and the need for emotional support.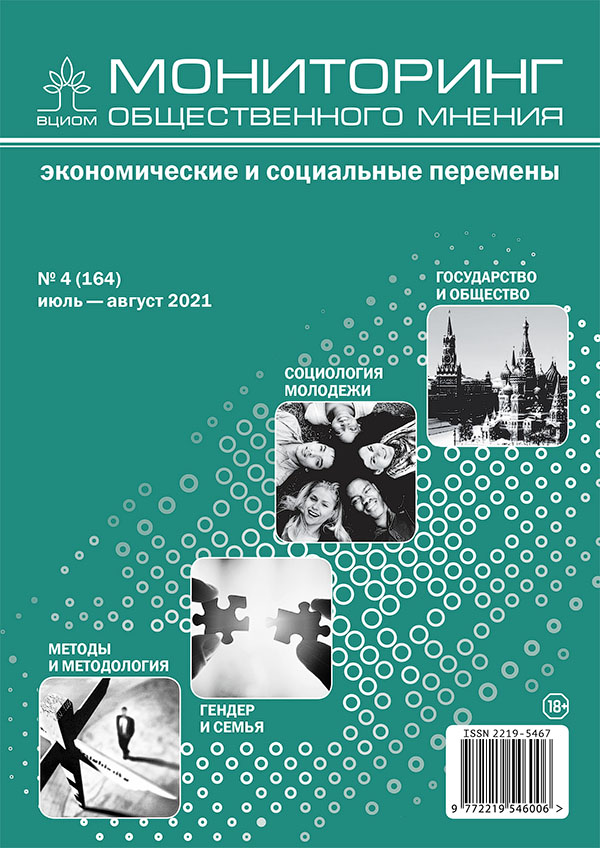 Section
SOCIOLOGY OF YOUTH
Copyright (c) 2021 Monitoring of Public Opinion: Economic and Social Changes Journal (Public Opinion Monitoring) ISSN 2219-5467
This work is licensed under a Creative Commons Attribution-NonCommercial-ShareAlike 4.0 International License.