Disciplinary Digital Self-Tracking Practices: Between Emancipation and Control
Keywords:
disciplinary practices, products of digital self-tracking, quantification of body, apps, tracker control, user of digital self-tracking
Abstract
Due to ever-growing digitalisation, self-tracking devices and apps are gaining popularity. Despite broad penetration into various spheres of life, self-tracking itself is a contradictory phenomenon. On the one hand, it enhances self-awareness opportunities for further self-transformations; on the other hand, mobile technologies penetrate individual's private sphere, establishing control over everyday practices. This very paradoxical character of digital self-tracing requires its detailed analysis and investigation. A series of interviews with users of different digital trackers was undertaken to find the basic control mechanisms. They involve several disciplinary (notifications, data visualisation) and social (sharing in internal and external social media) practices. The study's focus was also 'user-tracker' relationship marked not only by specific consumption patterns and roles earlier described in the literature but also by legitimising control and transformation of the tracker's use. All the above-mentioned aspects of digital self-tracking are related to how users draw the line between control and emancipation.
Acknowledgments. The article is prepared in collaboration with the SberBank Gamification  Laboratory.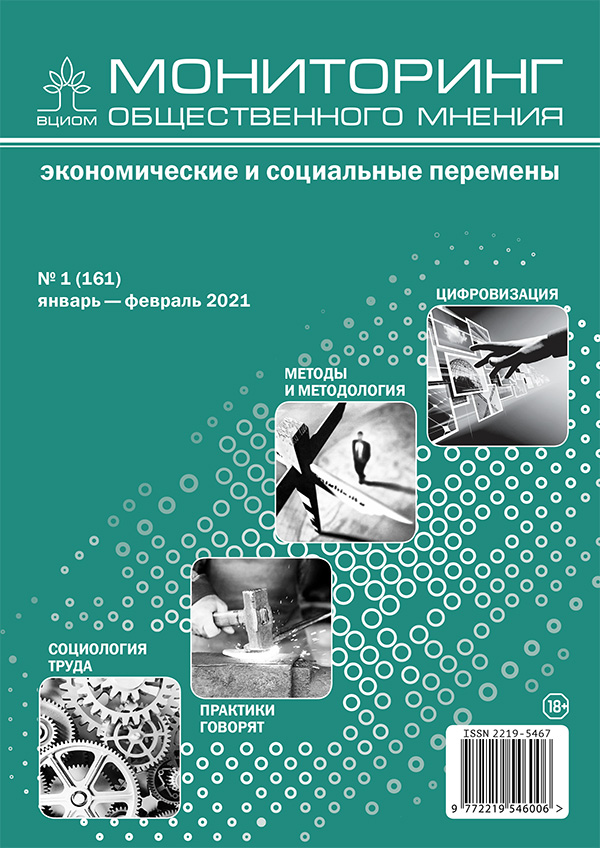 Copyright (c) 2020 Monitoring of Public Opinion: Economic and Social Changes Journal (Public Opinion Monitoring) ISSN 2219-5467
This work is licensed under a Creative Commons Attribution-NonCommercial-ShareAlike 4.0 International License.