Perception of the Culture of the Partner Countries by South Koreans and Russians
Keywords:
South Korea, Russia, population survey, culture, perception
Abstract
The article considers mutual perception of culture by the inhabitants of South Korea and Russia. The work is based on data from a survey conducted from 2016 to 2018. Basing on the survey data analysis, the author concludes that South Koreans and Russians generally positively perceive the culture of the partner countries, as well as the cooperation and economic relations between them. Over the three years of observation, the mutual interest of the two nations has grown significantly: the share of respondents who note the low level of their knowledge about the culture of the partner country and the simultaneous desire to know more has grown both in South Korea — from 36 to 51%, and in Russia — from 30 to 47%. The maximum level of interest in South Korean culture is observed among Russians with a relatively high level of education, people over the age of 40, as well as among those living in the Far Eastern and Northwestern Federal Districts. In South Korea, residents of the Honam, Gyeonggi and Incheon regions, as well as people aged 40—49 and 50—59, fall into a similar group. A higher interest in culture is observed in the groups of respondents who would like to know more about the partner country, have tourism intentions and have sympathy for the people of the partner country. At the same time, the share of those who are neutral towards the population of the partner country, find it difficult to determine the nature of bilateral economic relations, and do not have a special interest in the partner country or its culture remains significant. The minimum interest in the culture of the partner country both in Russia and in South Korea is observed in the youngest age groups: among the respondents aged 20—29 and 30—39 years old. These categories of the population should be in the focus of interest of researchers and politicians when developing plans for further cooperation, they should become recipients of cultural exchange programs that work to strengthen partnerships and create a positive image of partner countries.
Acknowledgements. This work was supported by Hankuk University of Foreign Studies Research Fund of 2020 and by the Ministry of Education of the Republic of Korea and the National Research Foundation of Korea (NRF-2019S1A6A3A02102950). The author is grateful to Ms. Moon Sooyeon, who completed her postgraduate studies at the Department of Sociology, Chung-Ang University, for her help in analyzing the statistics used in this article.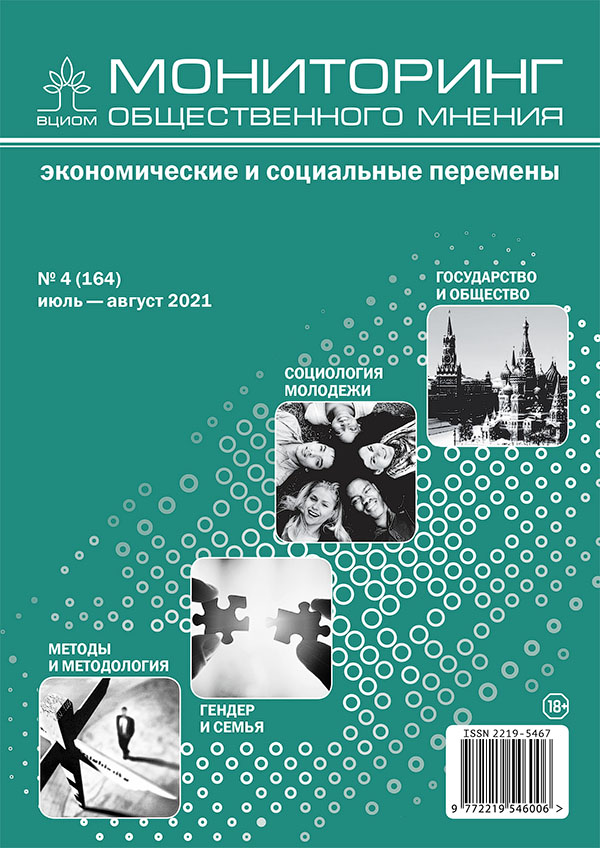 Section
STATE AND SOCIETY
Copyright (c) 2021 Monitoring of Public Opinion: Economic and Social Changes Journal (Public Opinion Monitoring) ISSN 2219-5467
This work is licensed under a Creative Commons Attribution-NonCommercial-ShareAlike 4.0 International License.