School Shooting Network on VKontakte: Case Study of a Fan Community Dedicated to "Kerch Shooter"
Keywords:
social network analysis, destructive deviant communities, deviant online communities, virtual fandoms of school shooters, "cult" of school shooters, school shooting in Russia, Vladislav Roslyakov, VKontakte, Columbine subculture
Abstract
The article aims to study the network structure of virtual communities related to the subculture of school shooters, on the example of one of the Russian fan groups dedicated to the memory of Vladislav Roslyakov, who is the most famous performer of the mass shooting in an educational institution in Russia. In our study, based on the method of social network analysis, we firstly identified the key network characteristics of the selected community. Secondly, we determined sociodemographic parameters and the geographic localization of its participants (based on open data). Thirdly, we compiled and analyzed the top general subscriptions of the network members and their friends after the community was blocked. The latter allowed us to characterize the homogeneity of thematic interests and the organizational and communicative integration of the studied group.
The results of the study show that an online subculture is formed within the youth audience of Runet interested in deviant content, connecting the Columbine theme with the "cult" of local shooters, such as the Kerch one — Roslyakov. On the VKontakte social network, users with deviant interests find a fairly wide circle of communication, while remaining mostly socially isolated loners. The online subculture of school shooters goes beyond formal membership in the corresponding virtual communities and can exceed the number of active subscribers dozens of times. The analysis of subscriptions of the group members shows that it is quite consolidated by thematic interests, shared by a part of their friends. However, the network is poorly organized and does not represent a tightly integrated communication environment.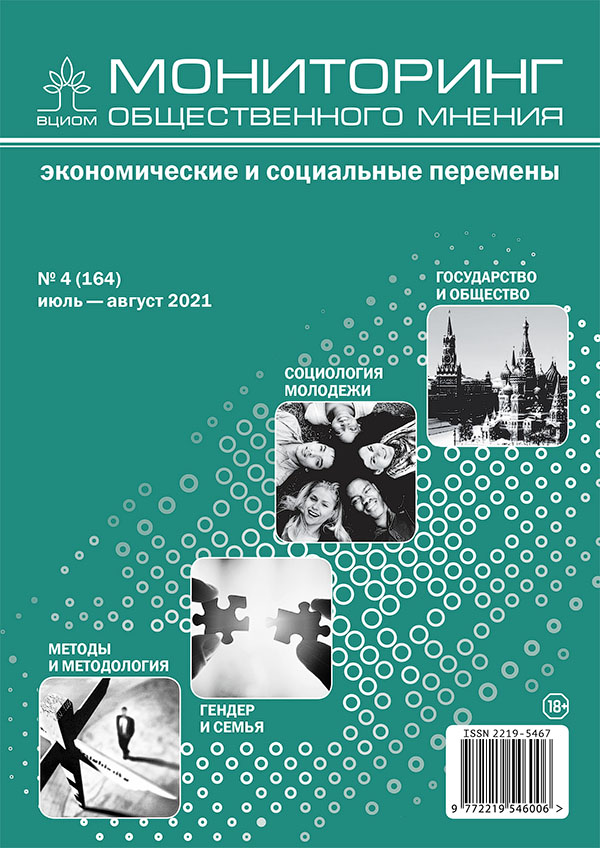 Section
SOCIOLOGY OF YOUTH
Copyright (c) 2021 Monitoring of Public Opinion: Economic and Social Changes Journal (Public Opinion Monitoring) ISSN 2219-5467
This work is licensed under a Creative Commons Attribution-NonCommercial-ShareAlike 4.0 International License.