Behavioral Practices of Senior Citizens Aimed at Improving Their Well-Being in Contemporary Russia
Keywords:
senior citizens, social behavior, behavioral practicies, social exclusion of elderly people, social activity of elderly people, social risk, social adaptation
Abstract
The topicality of the study is due to new socio-economic problems associated with an increase in the proportion and number of senior citizens in Russia. This causes changes in the social structure of Russian society, as well as in its systems of production, distribution, and consumption, and as a result – affects the position of all social groups and strata. The aim of the study is to identify the behavioral practices of the senior citizens aimed at improving their well-being. The empirical part of the article is based on data from interregional surveys conducted by the author: "Lines of social activity of the elderly people in the process of their social adaptation" (a survey of the pensioners in 2018-2019) and "Demand for representatives of the older generation in the labor market" (a survey of the employers in 2018). The author summarizes theoretical and methodological approaches that consider the social behavior of elderly people in current conditions, and typologizes the practices of the behavior of pensioners, depending on the nature of social activity. Based on the research carried out and the secondary analysis of its results, the author draws the following conclusions: First, the most common practices aimed at improving the seniors' well-being include (in addition to receiving a pension): work, financial behavior, subsistence farming for the purpose of supplementary income. Second, in accordance with the proposed typology, 65.9% of the seniors choose and implement an active type of behavioral practice, whilst only 34.1% — a passive one. Third, the level of activity of the pensioners is different. It is determined by the number of simultaneously selected and implemented practices. Fourth, the choice and implementation of behavioral practices of the seniors aimed at improving their well-being are influenced by both the social environment and personal characteristics.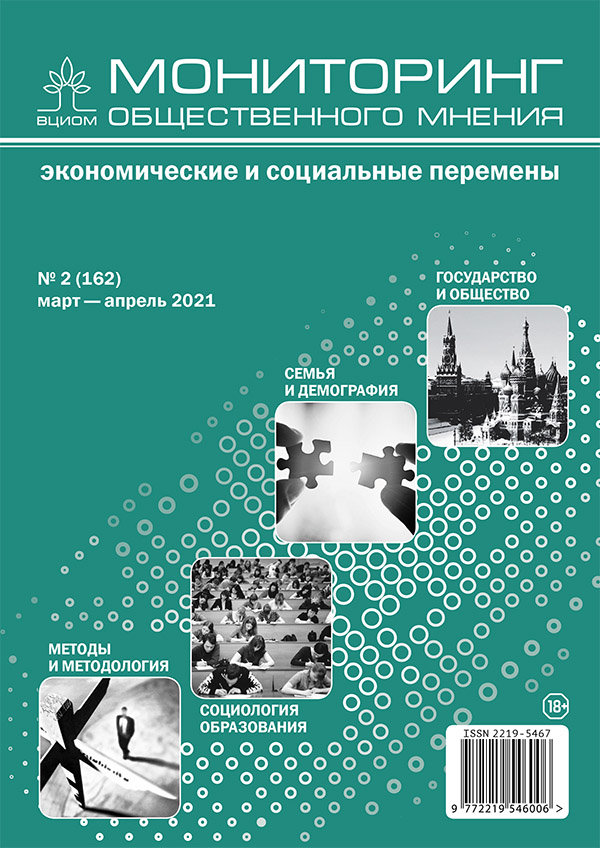 Section
STATE AND SOCIETY
Copyright (c) 2020 Monitoring of Public Opinion: Economic and Social Changes Journal (Public Opinion Monitoring) ISSN 2219-5467
This work is licensed under a Creative Commons Attribution-NonCommercial-ShareAlike 4.0 International License.