Interpretations of Adulthood and Formation of Educational Trajectories
Keywords:
transtition to adulthood, social inequality, interpretative sociology, youth studies, educational trajectories
Abstract
A vast portion of studies of youth is devoted to how adolescents reach (or do not reach) adulthood. Adulthood criteria might be numerous. For example, in life course research a criterion for a transition to adulthood is a baby-boomers' pattern during the 1950s-60s when half of young men and women managed to finish their education, to find a stable job, to build a family and to have children by the age of 25.  Nowadays there is much talk about the de-standardization of adulthood: lots of common criteria for adulthood become less relevant as the number of precarious jobs keeps rising; education is no longer a life stage but more of a constant activity; people often abandon the idea of having a child or building a family.
However, not all the adolescents grow up similarly. Researchers point out both that many adolescents are on a fast-track to adulthood typical of a working class youth and that they have a delayed entry into adulthood typical of middle and upper-middle-class youth trying to spend more time in education. These trends reveal the urgent need to study how young men and women view adulthood and how they try to achieve it. In the paper, the authors explore the adulthood interpretations that young people have, what those interpretations differ by and what they have in common depending on an educational track (intermediate vocational education or university) and their parents' level of education.
Acknowledgements. Support from the Basic Research Program of the National Research University Higher School of Economics is gratefully acknowledged.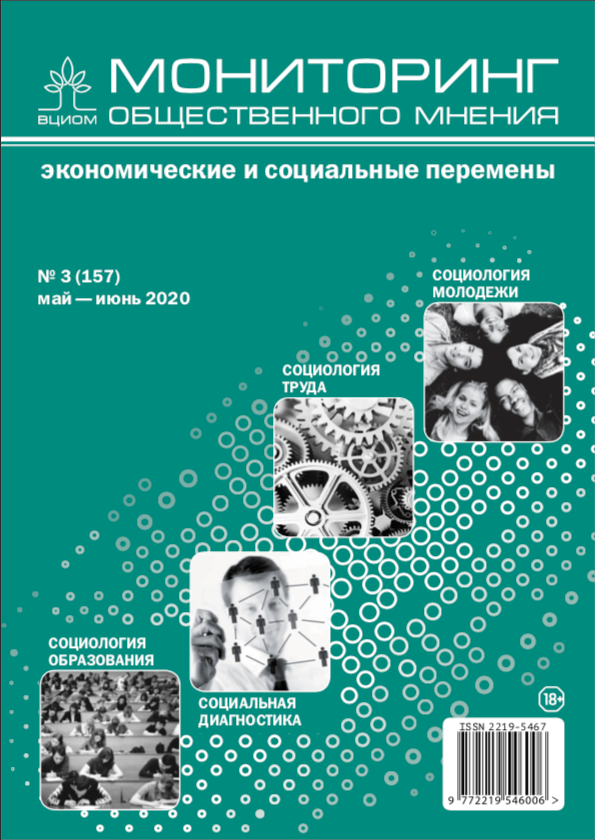 Section
SOCIOLOGY OF EDUCATION
Copyright (c) 2020 Monitoring of Public Opinion: Economic and Social Changes Journal (Public Opinion Monitoring) ISSN 2219-5467
This work is licensed under a Creative Commons Attribution-NonCommercial-ShareAlike 4.0 International License.