From Self-Education to Self-Employment: Back Entrance for Youth to the Labor Market
Keywords:
youth, career, self-employment, self-education, labor market
Abstract
The article provides insight into the causes of youth self-organization labor behaviour implying construction of careers alternative to traditional social practices. Self-employment is considered as a particular career path with a binary alhorithm of choice: voluntary or forced strategy. The article aims to analyze the role of formal education and self-education in the careers of the self-employed.
Empirical basis of the study includes the data of a questionnaire survey conducted by the authors among young people aged 18-35 living in the Republic of Mordovia (n = 490; April - May 2019); an online survey conducted by the Scientific Center for Social and Economic Monitoring of the Republic of Mordovia among the final-year students (n = 1,943; March - May 2019); semi-structured and focus group interviews conducted by the authors among self-employed young people in the Republic of Mordovia in 2019-2020 (selection criteria: self-employed experience of more than one year; age: 18-35).
The data obtained suggest that self-employment is likely to be a forced choice. It is caused by marginalization of professional status revealing a higher education's dysfunction. Crisis in professional identity, lack of demand for the diploma in the labor market, conscious awareness of skill shortage push youth to search for ways to enhance convertibility of human capital and to adapt to uncertain labor conditions. Formal educational background encourages soft skills (non-specialized trans-professional skills) and downgrades hard skills (professional competence). Self-education helps the self-emloyed to acquire the missing skills which are in demand in the labor market. Young people adhere to a dispersive model of human capital development not only in formal education but also in their non-formal and informal learning in an attempt to acquire diverse professional skills.
The study shows that self-education practices play an important role in choosing alternative career paths enabling young people's integration into the modern labor market.
Acknowledgments. The paper is funded by the RFBR and the Government of the Republic of Mordovia in the framework of the Social Space of the Labor Market in the Republic of Mordovia: Youth Self-Employment research project (no. 18-411-130016 р_а).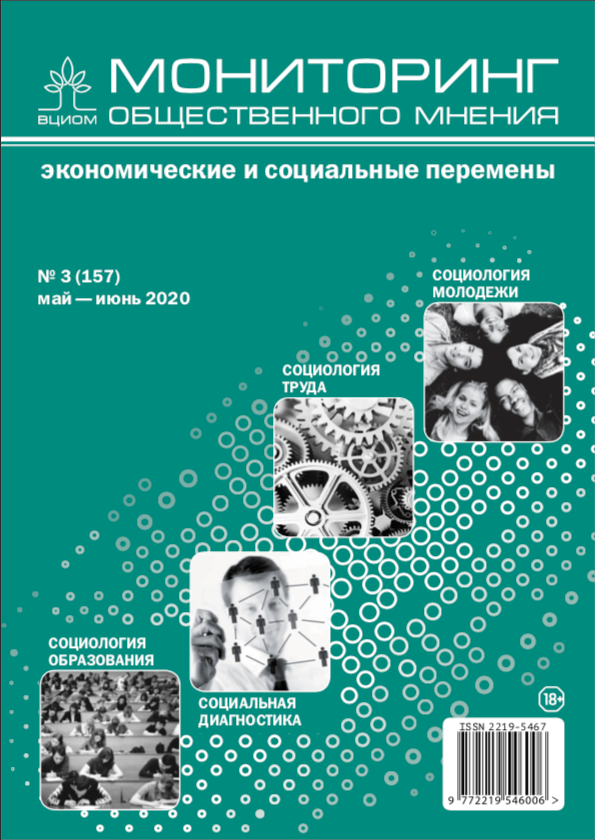 Section
SOCIOLOGY OF LABOR
Copyright (c) 2020 Monitoring of Public Opinion: Economic and Social Changes Journal (Public Opinion Monitoring) ISSN 2219-5467
This work is licensed under a Creative Commons Attribution-NonCommercial-ShareAlike 4.0 International License.