Interethnic Relations in the Assessments of Russians: A Sociological Analysis
Keywords:
interethnic relations, interethnic attitudes, interethnic accord, ethnic negativism, ethnic prejudice
Abstract
The article aims to provide a comprehensive assessment of the interethnic relations in Russia with an emphasis on the key target indicators set by the state program "Implementation of State National Policy". Based on the results of a tracking study initiated by the Russian Federal Agency for Ethnic Affairs and carried out by the Russian Public Opinion Research Centre in 2019, the article examines interethnic relations, as viewed by the population in general, in the oblasts, krais, republics, different types of localities across Russia. The analysis touches upon people's attitudes towards other ethnicities, factors behind interethnic attitudes, readiness of urban and rural area inhabitants to interact with people of other ethnicities in different areas, and reasons defining the presence or absence of ethnicity-based discrimination.
The findings point to a favorable interethnic climate domestically: 78% of Russians consider that interethnic relations in Russia are favorable or normal; 87% of respondents do not have negative attitudes towards people of other ethnicities; 96% have not experienced ethnicity-related hostility. Using a scale of social distance to study interethnic relations the author has studied the readiness for interethnic interactions in labor and non-formal spheres. The article highlights that with a generally favorable interethnic situation there is still a need to make more efforts aimed at promoting social elevators, ensuring social justice and respecting the rights of citizens to prevent interethnic tensions.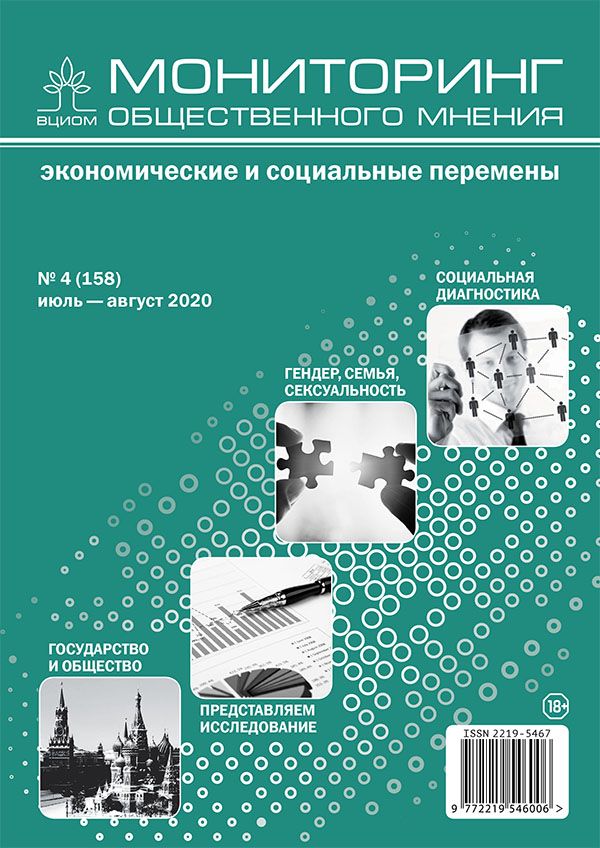 Copyright (c) 2020 Monitoring of Public Opinion: Economic and Social Changes Journal (Public Opinion Monitoring) ISSN 2219-5467
This work is licensed under a Creative Commons Attribution-NonCommercial-ShareAlike 4.0 International License.