Between Politics and Show Business: Public Discourse on Social Media Regarding Ksenia Sobchak, the Only Female Candidate in the 2018 Russian Presidential Election
Keywords:
social media, public discourse, online discussions, presidential election, Russian politics, Ksenia Sobchak
Abstract
The article analyzes the public discourse on social media regarding the only female candidate in the 2018 Russian presidential election. Ksenia Sobchak is a famous Russian public figure who started as a TV personality and subsequently changed her image to become a serious journalist and finally a politician.
The figure of Sobchak is an interesting topic to study for a number of reasons. Firstly, the issue of women in politics is poorly studied in communication research due to their low representation in political sphere. Secondly, Sobchak undermines traditional views about women in society; that is why looking at Sobchak as a presidential candidate allows a researcher not only to consider this case study through the lens of Sobchak's image as a politician but also to understand the public attitudes towards women with an active civic position in the Russian society.
The paper examines the public discussion on social media related to the Sobchak campaign. The authors analyze the messages within five top social media websites (Facebook, Instagram, Odnoklassniki, Vkontakte, Twitter). Computer-assisted sentiment analysis shows that Sobchak's background as a scandalous TV host has had a negative impact on her political career. Public discourse in the sample under consideration was predominantly focused on the scandals related to Sobchak's past and least related to her statements during the electoral competition.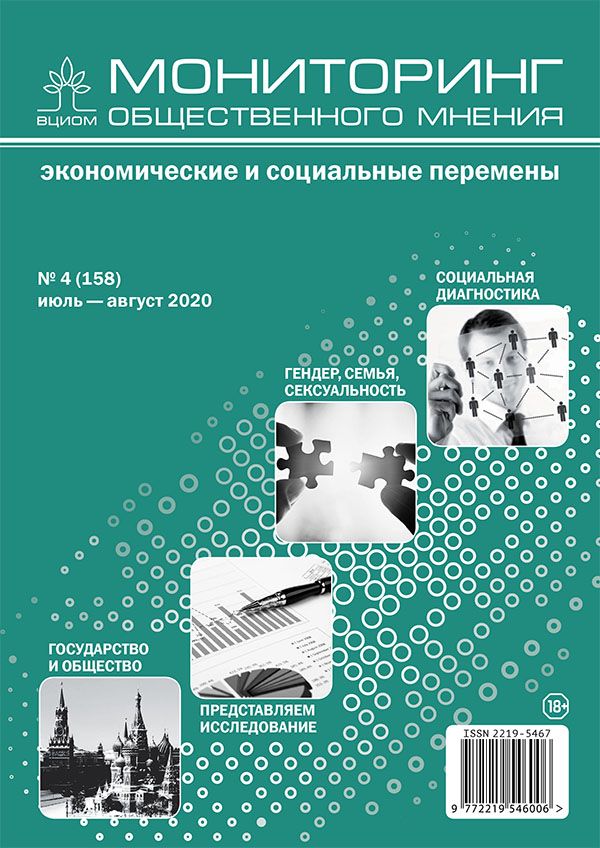 Copyright (c) 2020 Monitoring of Public Opinion: Economic and Social Changes Journal (Public Opinion Monitoring) ISSN 2219-5467
This work is licensed under a Creative Commons Attribution-NonCommercial-ShareAlike 4.0 International License.